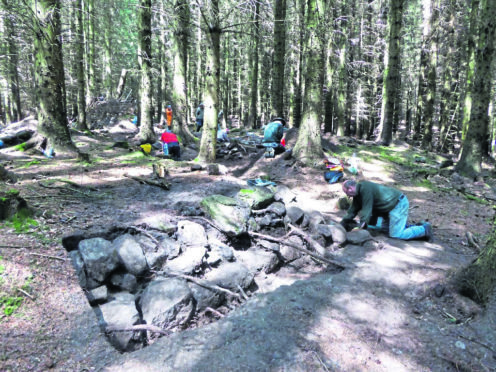 It started out as a mission to delve into a centuries-old chapter of north-east history.
But now it has turned into a "real mystery" as archaeologists examine whether a hospital might have existed in Aberdeenshire in the Middle Ages.
The Bennachie Landscapes Fieldwork Group is continuing to locate a traditional "Bede house" on the Pittodrie Estate at Chapel of Garioch, near Inverurie.
But Colin Shepherd, one of the archaeologists at the dig, told the Press and Journal yesterday their findings might indicate proof of a hospital at the site, prior to the Reformation.
Bede houses were created to provide refuge for the old and infirm of a parish and date back to medieval times.
It's thought these buildings were patronised by local lairds, in this case the Erskines, who vacated the estate in the mid-19th century after hundreds of years of involvement in the area.
A "bedesman" or "bedeswoman" was somebody who prayed for the soul of his or her benefactor, which explains the derivation of the name from the Old English word "biddan" – to pray.
Bennachie Landscapes is a project organised jointly by the Bailies of Bennachie and Aberdeen University, which has been running since 2010, and researches the social and natural heritage and landscape of the area.
However, the exact whereabouts of the house remains open to question and two sites are currently being examined in search of evidence.
Mr Shepherd said: "We started ploughing through the archives before the dig started and suddenly found references to something very unexpected.
"It had been taken for granted that the Bede house existed, but we are now looking at the possibility it might have been a very early hospital, run by the church.
"There's definitely something there and we have already found some lovely remains, but we are keeping an open mind while we get on with the excavation.
"Obviously, hospitals in medieval times were very different from those we have today. But it's a real mystery and it is always fascinating when you find something like this."
The other possible location has been revealed through access to recent LiDar (light detection and ranging) sensing.
While the excavation continues, members of the public have been invited to join free guided tours of the sites, which will highlight the work being carried out at one of Aberdeenshire's most picturesque settings.
The guided walks to the Bede House excavation are on July 19 and 24 and August 2 and 7.
The first and last of these events will meet at Rowantree Car Park, near Chapel of Garioch, with the second and third convening at Bennachie Visitor Centre.
Further information is available from info@bailiesofbennachie.co.uk.