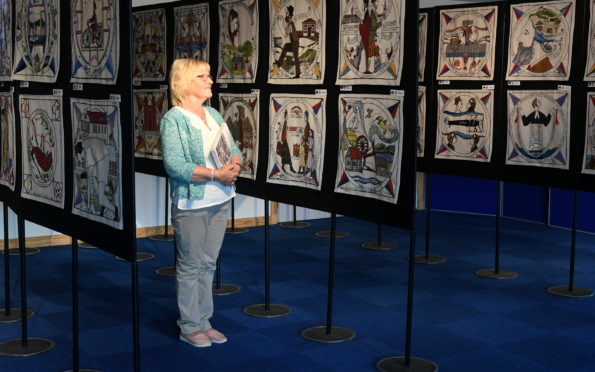 A world-famous historical work of art chronicling the impact of Scots throughout the world is on display at an Aberdeenshire tourist attraction.
The Scottish Diaspora Tapestry is made up of 305 separate hand embroidered panels and can be viewed at the Garioch Heritage Centre until October.
The project was conceived in Prestonpans and began as 150 panels, produced by volunteers from 34 countries, but the artwork has grown as it has travelled the world.
As it has toured the globe, visiting Canada, Tasmania and New Zealand and the USA, it has become a compelling document of Scotland and Scots, often from the perspective of explorers and immigrants.
One panel, from Mobile in Alabama, depicts the of story John Ross, who was of Scottish descent but went on to become a Cherokee chief.
Another showcases the heritage of singer Paolo Nutini, whose grandfather moved to Paisley from what is known as The Most Scottish Town in Italy – Barga in Tuscany.
Nora Radcliffe, chairwoman of the Garioch Heritage Society, said: "It is a great honour for us to have such a national treasure on display at the centre.
"The tapestry is wonderful, with so many stories embroidered into every panel, all providing an insight into Scotland's past.
"We are really looking forward to sharing this with everyone over the next few months."
Arran Johnston from the Scottish Diaspora Tapestry will give a presentation on the tapestry at the heritage centre on Tuesday, at 7.30pm.
Entry will be £2.50 for heritage society members and £3 for non-members.
The Garioch Heritage Centre is located in the former Locomotive Works in Inverurie.
The tapestry will be on display there until October 6.