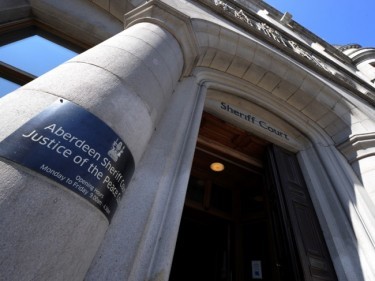 A "devious" and "deceitful" sex offender who hid his internet use from police has been jailed for a year.
Following a previous conviction, Peter Davidson had been instructed to give police details of all his social media accounts and let them inspect any devices capable of connecting to the web on request.
At Aberdeen Sheriff Court yesterday he admitted failing to do this on two counts.
This included an officers' discovery of an iPhone with a Facebook account under an alias the 26-year-old had not informed them of.
Davidson explained that he had been "mistaken" about how long he had owned the phone for.
The revelation led to him being described as a "deceitful individual" in court, with a further reference to his "devious" ways disputed by defence agent Graeme Morrison.
Sheriff Brown told the 26-year-old: "There are conflicting views about you.
"On one hand it says you are co-operating with the social work department, on the other your offender manager thinks you are 'devious'.
"They think you are becoming unmanageable in the community, in terms of your behaviour."
He added: "These offences are of a devious nature.
"You set up a Facebook profile using a relative's name and the mobile phone – you clearly knew you had it and didn't disclose it to the police."
The Sheriff sentenced Davidson, of Auchnagatt, to 12 months imprisonment and ten years on the Sex Offenders Register, warning that he had the potential to be "a danger to the public."