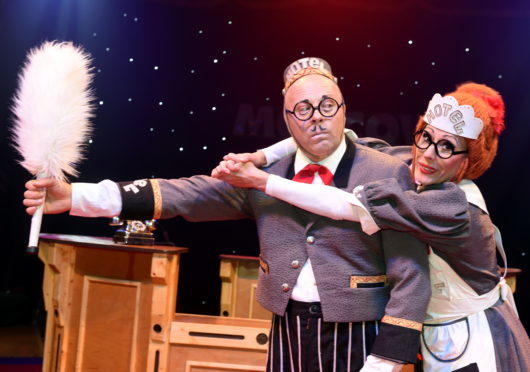 Aberdeen residents have gazed in amazement at the breathtaking stunts performed by members of the Moscow State Circus for the past two nights.
The Russian outfit began a run of shows in the city on Thursday, and its big top will remain pitched at the King's Links until Sunday, August 5.
The performers are so highly regarded in their homeland that they were recently involved in the football World Cup opening ceremony, sharing the Luzhniki Stadium turf with pop star Robbie Williams.
But now their focus is on entertaining the masses in the Granite City, with a show set in a 1930s hotel entitled Gostinista.
Organisers say the production has been two years in the making, and marks the 250th anniversary of the birth of the circus in the UK.
Award winning clowns, the Chervotkins Duo, guide the audience through the show which features acrobatics, trapeze artists and unicyclists among other acts.
The success of the circus comes in spite of an attempt to sabotage the run, which also affected spells in Elgin and Inverness, suspected to have been carried out by rivals.
Some posters advertising the arrival of the circus were defaced with notices stating that the shows had been cancelled.
Some of the vandalised posters were spotted in the Urquhart Road area of Aberdeen.
Tour manager, Marnie Dock, said that efforts were quickly made to remove the unwanted banners.
She added: "Somebody has been round and put cancelled stickers across all our posters. I just think it was really low and petty, but the show will definitely go on."