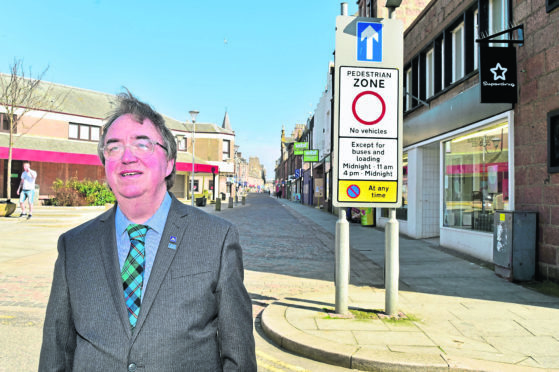 Calls have been made for a crackdown on motorists flouting a car ban on a north-east high street.
Marischal Street in Peterhead is closed to cars at all times, and is only open to buses and vehicles loading at shops.
But local councillor Stephen Calder has raised concerns that many drivers are ignoring the restrictions, and feels action needs to be taken.
He is particularly concerned that, since the town is busier during the school holidays, a young person may get knocked down.
Mr Calder has now written to the council and the police about the issue.
He said: "I have received a complaint, the latest of many, of a pedestrian being almost knocked over by a car speeding through the pedestrian zone in Marischal Street.
"At this time of year, especially during the summer holidays, and particularly in a spell of good weather, families use the pedestrian zone, with young children playing in the sun.
"I'm afraid the matter of violations of the pedestrian zone is just not being taken seriously in the opinion of pedestrians who use the 'traffic free' zone.
"I'm aware that there are other priorities for our severely stretched local police force, and that we no longer have the services of traffic wardens, but this situation is unacceptable and clearly dangerous.
"A large number of motorists violate the clearly displayed signage throughout the day in full knowledge that there is currently no enforcement of the regulations."
Aberdeenshire Council's road manager for Buchan, Philip Leiper, said they have been working with the police on parking offences on Marischal Street.
He said the signs on the route at the moment is up to date.
Mr Leiper said: "The current signage is clear and correct – Marischal Street is a pedestrian zone with access to delivery vehicles only between midnight and 11am, and from 4pm to midnight each day. Shop customers should not be parking on
Marischal street at any time, as it is an enforceable offence."
Inspector George Cordiner, who is based in Peterhead, said he is happy to hold talks with local authority bosses about the situation.
He said many motorists are "unaware" of the rules, but some do choose to ignore them completely.
Insp Cordiner said: "We are aware that there are continuing issues with members of the public accessing the pedestrian aspects of Peterhead Town Centre and in particular the Marischal Street aspect of Drummers Corner.
"We have found that these drivers are either unaware of the restrictions and believed it was open for vehicles, similar to formerly pedestrianised aspects of Chapel Street and Broad Street, or they have chosen to ignore the restrictions.
"Unfortunately, shopkeepers also continue to ignore the loading and unloading restrictions which adds to the perception that the area is open to vehicles."