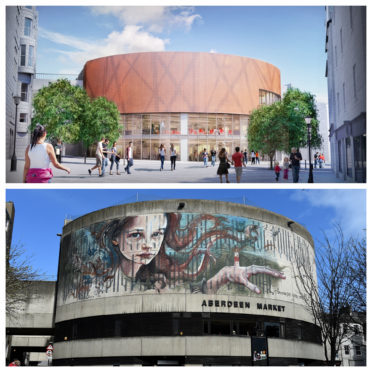 The "signature piece" of Aberdeen's first Nuart festival could be lost under plans to renovate the Aberdeen Indoor Market.
Developer Rockspring, which owns the former BHS department store and the attached indoor market, has lodged a planning application to Aberdeen City Council seeking permission to completely redesign the "underutilised, unloved" buildings.
Included in the vision for the revamp are plans to remove parts of the "solid monolithic wall" at the western end of the indoor market and replace it with backlit, perforated metal cladding.
The proposals have been designed to attract boutique shops, and potentially bars and restaurants, to the area.
However, calls have now been made for the wall to be retained in order to preserve the enormous painting currently adorning it.
The piece was painstakingly painted by German duo Herakut as part of the first Nuart festival last year.
Lisa Kelbie, owner of the Bistro Verde restaurant, said: "There are so many people that attend the Nuart walking tours, and they seem to especially love this artwork – so if it's possible, it would be good if it could be left as is.
"You see people from Norway, France, and all over the world who make the point of coming down to The Green to see it.
"We sometimes feel a little bit forgotten about down here, but since Nuart, we're always seeing people come down to take photos and enjoy themselves at The Green – it's definitely benefitted our business."
Adrian Watson, the chief executive of the city centre business group Aberdeen Inspired that brought Nuart to Aberdeen, said: "People often ask the question of how we intend to preserve the art pieces, but it's the transient nature of street art that adds to its power and its mystique.
"But with this particular one, it would be right to say that it was the signature piece of our inaugural 2017 Nuart festival, and what that did in terms of transformation for the city, and especially The Green, is phenomenal.
"It would be sad to see it go, there's new Nuart every year springing up across the city – and one of the key considerations for Rockspring was the transformation they had witnessed thanks to Nuart down at The Green, and that has been part of their decision making in terms of investment."
A spokeswoman for Rockspring was unable to comment yesterday.