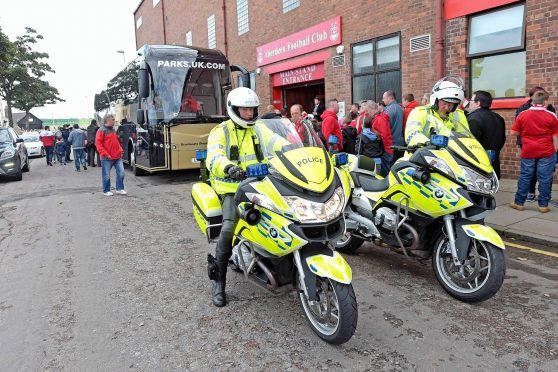 Police have issued a warning to fans ahead of the start to the domestic football season.
Aberdeen host Rangers at Pittodrie tomorrow in their first match of the 2018-19 Premiership calendar.
In order to cut down on drunken behaviour or other disorder, officers will be carrying out spot checks on coaches and buses travelling to the game.
Match commander Superintendent Innes Walker said: "I am urging supporters to behave responsibly and be aware that if you're drunk you won't be allowed entry to the stadium and you'll miss the match.
"Additional officers will be on duty across the north-east and within the stadium on Sunday and they will be supported by specialist resources.
"Our officers are extremely experienced in policing football matches and will be able to offer you assistance should you need it."
Alcohol and pyrotechnics are banned from the ground and fans will be turned away at the turnstiles if they do not agree to be searched for these on their way in.
Supt Walker added: "Pyrotechnics are extremely dangerous and endanger the safety of those around you as well as your own safety.
"We will take action, you will be arrested.
"The match is undoubtedly a big event and we are looking forward to it. Most importantly enjoy the football and stay safe."
Police are also warning that the city centre, Pittodrie, beachfront and Seaton areas of Aberdeen will likely be busier than usual.
They are urging fans heading to the stadium to plan their journeys and allow plenty of travel time.
The match kicks-off at 1pm.