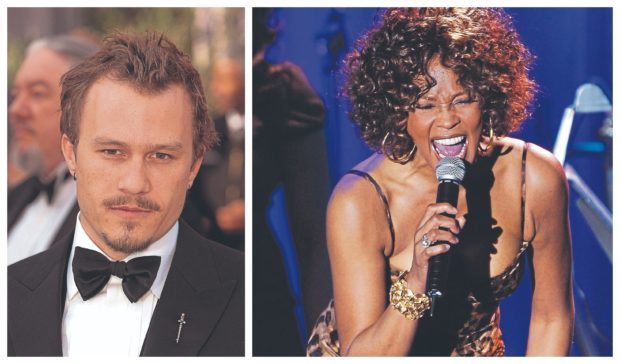 The north-east is feared to be in the grip of a "crisis" after almost 40 fatalities in the last 18 months were linked to a drug made infamous by celebrity deaths.
Shocking figures show that the tranquiliser alprazolam – brand name Xanax – has been connected to the tragic deaths of ten people in Grampian in the first six months of 2018.
It follows the revelation in the Press and Journal that the drug was found in toxicology reports of 29 people who died in the region last year – more than the combined total reported for Greater Glasgow, Lothian, Ayrshire and Forth Valley.
Alprazolam is a tranquilliser widely prescribed in the US to treat anxiety – and was found in the systems of Whitney Houston, Heath Ledger and other celebrities after their deaths.
In the UK, it is only available on private prescription, but there have been growing reports of younger people using it illegally as a recreational drug, often having bought it online.
Of the ten deaths where alprazolam was found in toxicology reports in Grampian between January and June this year, the drug was ruled to be a "contributing factor" in all but one.
Scottish Conservative MSP Tom Mason has previously raised concerns about the "surge" in such deaths in the north-east, after the number of fatalities increased from zero in 2013 and 2014, to five in 2015, up to 11 in 2016 and 29 last year.
Last night, he urged new Health Secretary Jeanne Freeman to "treat this crisis with the seriousness and urgency it deserves".
And in a letter to the SNP minister, the north-east MSP questioned whether the Scottish Government would support a call to reclassify the Class C drug.
Mr Mason said: "These new figures suggest that this is a major problem that is not going away.
"Grampian accounts for nearly one third of all Xanax-related deaths in Scotland. That is incredibly alarming and totally unacceptable.
"It seems clear that the current strategy is failing. I have asked a series of questions of the new cabinet secretary, including whether the SNP would support calls for the drug to be re-classified.
"I sincerely hope that Ms Freeman will treat this crisis with the seriousness and urgency it deserves."
A Scottish Government spokesman said decisions regarding which drugs are made available for prescription are made by the Scottish Medicines Consortium, which is independent of Ministers and Parliament.
All prescribing clinicians must follow strict protocols when prescribing medicines and all decisions are made on the basis of clinical need.
He said: "We continue to closely monitor the use of Xanax and work closely with Police Scotland, NHS boards and organisations such as the Scottish Drugs Forum, to increase awareness of the health related dangers of taking prescription drugs, whether genuine or counterfeit, through social media, national and local campaigns.
"We are fully committed to tackling the damaging impact of drugs in Scotland and our forthcoming drug and alcohol strategy aims to ensure the best health outcomes for people who use these substances, including counterfeit and prescription only medicines."
NHS Grampian recently issued a drug alert after noticing "an increase in both hospital admissions involving self-reported alprazolam use and drug deaths where alprazolam is present".
A spokeswoman for the health board said: "Services are available across Grampian to provide support and advice to anybody who is affected by the use of Xanax – whether their own personal use or somebody they know.
"Alcohol and Drugs Action provide support throughout Aberdeen City and Aberdeenshire and have a helpline 01224 594700 which is open to all.
"Turning Point Scotland provide support in North Aberdeenshire and can be contacted on 01779 470490.
"Arrows are the organisation providing support in Moray and they can be called on 01343 610500."
Cocktails of drugs that include alprazolam have been connected to the early deaths of multiple famous names in recent years.
Elisa Bridges, an American actress and model, was found at a mansion in Los Angeles in 2002, with her death caused by intoxication by the combined effects of heroin, methamphetamine, meperidine and alprazolam.
Australian actor Heath Ledger, star of The Dark Knight and Brokeback Mountain, was found unconscious at home in New York in January 2008, and toxicological analysis concluded it was an accident resulting from the abuse of prescribed medications, including alprazolam.
In February 2012, US singer and actress Whitney Houston was found unconscious in a bath at the Beverly Hilton Hotel and, while the death was attributed to drowning and the effects of atherosclerotic heart disease and cocaine use, toxicology reports showed she also had alprazolam, diphenhydramine, alprazolam, cannabis and cyclobenzaprine in her system.
Last November, American singer and rapper Lil Peep was found dead on his tour bus from what was later confirmed to have been an accidental overdose fentanyl and alprazolam.
Michael Jackson was also reported to have been a regular user of alprazolam before his death in 2009.