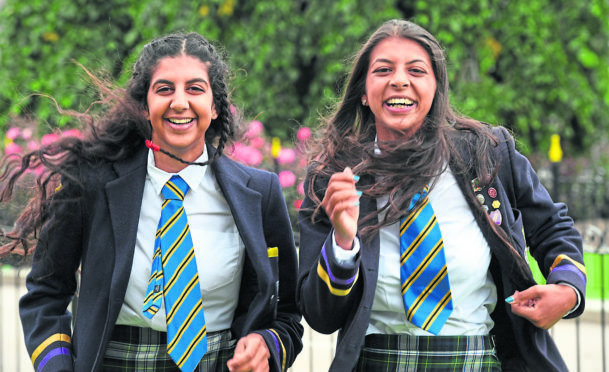 For sisters Anisha and Rhia Badial, their exam success is bittersweet.
The pair, from Robert Gordon's College in Aberdeen, both got straight As in their highers, and are now looking forward to university.
But it will be the first time the siblings have been separated – with Anisha staying in the north-east to study medicine at Aberdeen University, and Rhia headed to Dundee to study dentistry.
The sisters, from Maryculter, had an anxious wait yesterday morning due to the late post and only found out their results after arriving at school.
"I was relieved," said Anisha, who studied advanced biology, higher art and higher maths.
"We live quite far out and the letter hadn't got to us by the time we left in the morning.
"It was when we got to school that we found out from our head teacher Mr Mills we had got the grades for our university choices.
"I've always wanted to do medicine so exciting to finally get the results I wanted.
"It will be hard leaving my sister but at least we are still close enough to visit each other."
Rhia, who earned As in advanced biology, chemistry, and religious moral philopsophical studies, added: "Dundee is close to home and one of the best universities for dentistry.
"I'll miss Anisha but we're both excited for this next step."
Fellow Gordonian Ross Martin also aced his exams, after managing to juggling his budding tennis career with his studies.
He got straight As in advanced higher biology, chemistry and maths.
"It was always a challenge" he said.
"When I reached fifth year my organisational skills improved and I was able to balance studying for exams with keeping up my tennis.
"I've had a fantastic time at high school, but I am also looking forward to the next to the next challenge."
Ross, from Aberdeen, will soon be embarking on a biochemistry course at Oxford University.