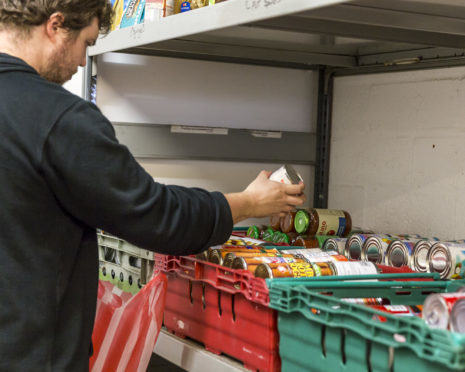 Aberdeen food banks are crying out for public donations during the summer holidays because of unprecedented demand from families who rely on free school meals during term time.
The plea for help comes after the Trussell Trust, an anti-poverty charity, released figures from its network of more than 420 food banks across the United Kingdom, including the north-east.
They estimate the loss of free school meals during the holidays adds between £30 and £40 a week to parents' outgoings for each child.
In Aberdeen, the local foodbank, Community Food Initiatives North East (CFINE), is working to rectify this problem.
CFINE development worker Graeme Robbie said: "We are seeing unprecedented levels of need at our food bank in Aberdeen and from our various partners around the north-east.
"They are requesting additional food for people in need.
"Families with children who are entitled to free school meals can face added financial pressures outside of term time. This is known as 'Holiday Hunger'.
"With this in mind CFINE has been working in partnership with Aberdeen City Council, Aberdeen Football Club Community Trust and others to deliver a number of initiatives tackling this issue, as well as addressing some of the underlying causes of food poverty more widely.
"I would encourage anyone who is able to donate food to do so and help CFINE continue to tackle hunger in the coming months."
In the Aberdeenshire town of Inverbervie, local food bank volunteer Caroll Evans has seen the very same problems.
She said: "Our food bank is sadly depleted this week.
"Food shortages have hit us harder during school holidays. We have been hearing of parents forced to choose between electricity and food.
"These problems are very real and not far from our doorstep."
Ms Evans said the food bank was always on the lookout for donations, volunteers, health visitors, social workers and housing officers to help the cause.
The Bervie Foodbank has partnered with local businesses to place yellow wheelie bins across Inverbervie, in the hope more people can be encouraged to donate food items.
Aberdeen councillor Martin Greig is also encouraging residents across the north-east to play their part in helping local foodbanks.
He said: "Sadly there are people suffering greatly from lack of money and food and donating to foodbanks is a good way to help those in need.
"The kindness of the average citizen is hugely appreciated in the service of others."
Shelves bare at Aberdeen food bank
Instant Neighbour Aberdeen, a charity which provides emergency food parcels to individuals who require urgent assistance, are also struggling to providing support.
Charity bosses have seen a massive rise in the number of people requiring the services of food banks.
So far this year, 348 new people have signed up for their services, with 10 new sign-ups in August already.
Dorothy Goldie, the charity's office manager, described the situation as "dire."
"Any donations are welcome, we are low on everything.
"Our shelves are bare.
"We usually have a good amount of tinned soup, but we're even low on that now.
"We would really appreciate donations of pasta, rice, tuna, tinned fruit and vegetables – or any dried foods that could help contribute to a family's main meal."
Last summer when the charity was low on food items, they posted a public appeal to raise awareness of the situation.
A kind-hearted soul from the Netherlands saw the post, and immediately completed an ASDA online food order to be delivered to the Aberdeen charity.
"It was such a nice surprise to receive that package," Ms Goldie said.
"People can help out in so many ways.
"You can bring donations into our shop on Machar Drive, complete an online order or volunteer with us – get in touch if you'd like to help."