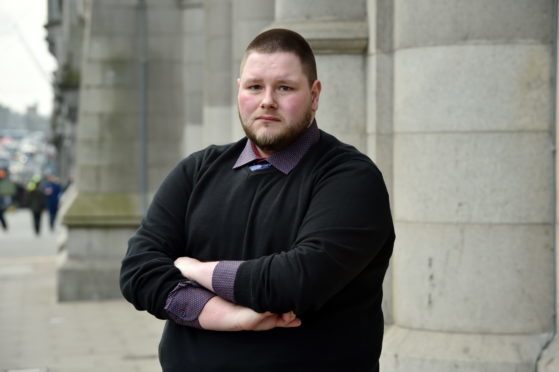 An ambulance technician accused of speeding while delivering emergency medical equipment to the city hospital has spoken of his relief at being cleared of the offence.
Johnathon Kerr was working with the Scottish Emergency Rider Volunteer Service (SERVS) when he was asked to pick up the ECMO machine which had been taken to Glasgow from London.
He had been told by a surgeon that the operation was an emergency and that the patient would die if the equipment did not arrive at Aberdeen Royal Infirmary by 9am in the morning.
On the way there he was caught driving at 102mph but believed he had permission to do so because unlike other SERVS employees he had official training to drive emergency service vehicles.
But his employers declined to sign any exemption form and he was charged with speeding on the A90 Aberdeen Road at Fordoun.
Giving evidence at Aberdeen Justice of the Peace Court yesterday, Sarah Cameron, a trustee of SERVS, said the charity founders decided speeding would not be approved when the organisation was initially launched.
Mr Kerr said he thought he was exempt due to previous training.
His defence lawyer Ronnie Simpson asked him: "Do you feel thrown under a bus by this?"
He replied: "That's one way of putting it."
Fiscal depute Kelly Mitchell argued during the hearing that he had set off from Glasgow between 5am and 6am and so could have reached Aberdeen in time without the need to drive at excessive speeds.
But Mr Simpson brought up the defence of necessity, arguing that his client needed to get up the road for a certain time.
Justice Shameen Sheikh agreed and found Kerr, of Montgomery Road in Paisley, not guilty.
Following the outcome the 29-year-old said: "I am just pleased that it is finally over with.
"I appreciate that my lawyer has taken on a bit of a case.
"I am very pleased with the outcome.
"I can return to full-time employment – I can register as a paramedic and progress with my career.
"It's been almost 16 months since the time of this incident and I can finally move on."
Mr Simpson said that his client should not have been brought to court.
He said: "It was the wrong decision to prosecute but the right decision to acquit."
A SERVS spokesman said: "As stated throughout these proceedings, SERVS fully complied with the Police Scotland investigation including the return of all paperwork.
"The decision whether to grant an exemption or to pursue a prosecution in any case is a matter for Police Scotland.
"The matter has now been settled by the courts."