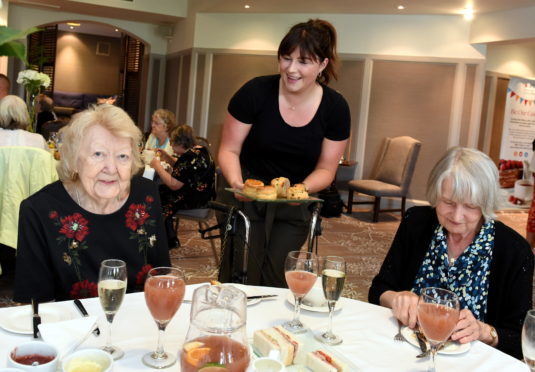 A charity hosted a special event yesterday to brighten up the weekend of dozens of north-east pensioners.
Contact the Elderly, who helped the Press and Journal over the festive period to highlight how isolated older people can be, hosted an afternoon tea at The Marcliffe in Aberdeen.
The P&J's Share the Cheer campaign urged readers to spend some time with a lonely neighbour, friend or relative.
And yesterday, Contact the Elderly helped keep that goodwill going by hosting a tasty tea for 10 of their groups.
It was funded by Tesco's Bags of Help initiative, which puts the 5p plastic bag charge to good causes. The charity was awarded a £2,900 grant for the tea.
Guests were treated to a tipple of prosecco, individual strawberry tarts and a collection of gourmet sandwiches.
Caroline Peter, Contact the Elderly's support officer, said: "This was a fabulous afternoon for everyone. The elegant surroundings and first-class attention were a real treat for guests and volunteers.
"We were thrilled to be selected by Tesco and benefit from the scheme.
"Then to have the support from the Marcliffe was the icing on the cake. The assistance of both organisations is enormously appreciated and demonstrates how the power of community spirit can go a long way in helping to combat loneliness."
Contact the Elderly host weekly afternoon tea parties across the country, providing hundreds of socially-isolated older people with  much-needed company for a couple of hours.
The tea parties are generally held in a volunteer host's home, with guests transported to and from the event by a fleet of volunteer drivers.
Area organiser John Gall said: "Everything went really well. It was a full attendance and we were all impressed with the turnout.
"The guests had a lovely time and everyone was commenting on how wonderful the food was.
"Everything went smoothly and its thanks to the help we had from Tesco that we are able to put this together."
Georgina Downie, Tesco community champion, and Aberdeen Youth Ambassador Ella Skinner, also attended yesterday's event.
Contact the Elderly is currently seeking volunteers to assist them with events and campaigns. FOr more information, visit www.contact-the-elderly.org.uk/become-a-volunteer