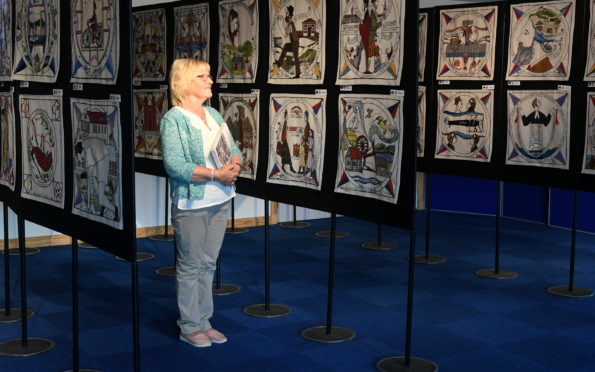 The Aberdeenshire heritage centre which is hosting a world-famous work of art will stage the launch event for a book about it.
The Scottish Diaspora Tapestry is made up of 305 separate hand embroidered panels chronicling the impact of Scots throughout history and is on display at Garioch Heritage Centre in Inverurie.
The project was conceived in Prestonpans and began as 150 panels, produced by volunteers from 34 countries, but the artwork has grown as it has travelled the world since its completion in 2010.
Arran Johnston helped stitch the famed fabric together and has served as lead manager for its exhibitions since 2014.
Mr Johnston will visit the heritage centre on Wednesday August 22 to give a presentation on his new book about the tapestry, "What We Wouldn't Do for Scotland".
It will analyse how the tapestry has become a "celebrity phenomenon" since it started touring the world, attracting 250,000 visitors across 44 exhibitions.
The tapestry has visited Canada, New Zealand and the USA, and will be in Inverurie until October.
One panel, from Mobile in Alabama, depicts the of story John Ross, who was of Scottish descent but went on to become a Cherokee chief.
Another showcases the heritage of singer Paolo Nutini, whose grandfather moved to Paisley from what is known as The Most Scottish Town in Italy – Barga in Tuscany.
The talk will take place at 7pm in the venue's meeting room.