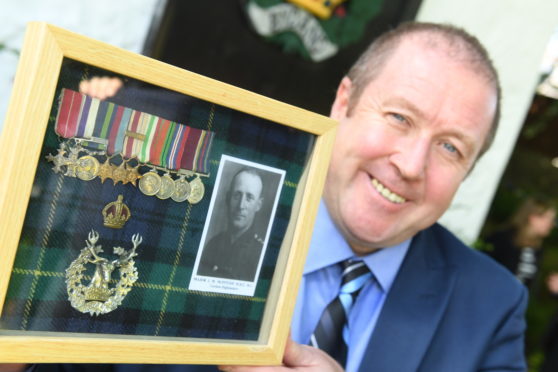 Veterans' Minister Graeme Day made a poignant visit to an Aberdeen yesterday as he reflected on his own family's service in past conflicts.
Mr Dey, who is also MSP for Angus South, was "delighted" to donate his late grandfather's medals to the Gordon Highlanders Museum.
He met with museum staff and war veterans as he presented the family heirlooms to its collection as a long term loan.
The politician's grandfather, Major James M. McIntosh from Aberdeen, joined the Gordon Highlanders in 1921.
He served around the world, in Turkey, Palestine and India, and rose through the ranks to become a major.
In 1942 he was awarded the Military Cross at El Alamein in Egypt for his services during the First World War.
Mr Dey donated the medals along with a Gordon Highlander cap badge and a photograph of his grandfather taken during the war.
He said: "The history of the First World War and the Gordon Highlanders' role in it is part of the fabric of Aberdeen and I'm happy to be a part of that through my grandfather's story.
"This is something I've always wanted to do. The medals have been sitting in the house for years and I have long felt the place for them should be somewhere like the Gordon Highlanders Museum.
"When I started to put the idea into action, I was delighted at the response from the museum and that they were willing to have the medals."
Mr Dey added: "It will be so special to visit the display with my family in the future.
"My granddad was so proud to be a Gordon Highlander. He would have loved this."
During his visit, Mr Dey also met with war veterans Darren Sharp and Fred Tough.
The group toured the museum's current display of Gordon Highlander artefacts late into the afternoon.
Ruth Duncan, the museum's curator, officially accepted Mr Dey's donation.
She said that family heirlooms were donated by members of the public "every day".
"The museum has 5,000 medals overall and each is unique," she said.
"Some tell us a story about bravery, some about being in the right place at the right time and some, unfortunately, about being in the wrong place at the wrong time.
"Each one has a special place in the museum and we are delighted to accept Mr Dey's donation."
The medals will be available to view in the museum's armoury from September.