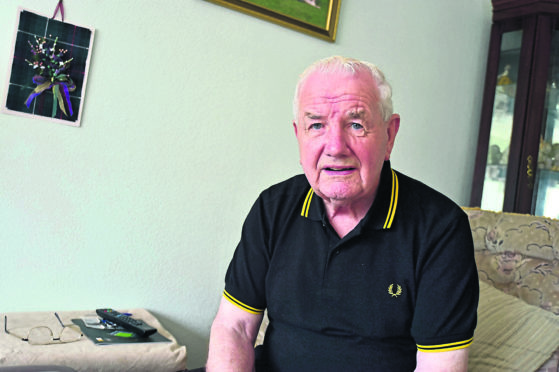 A deaf man has called on Aberdeenshire Council to do more to support people with hearing impairments in the north-east.
John McLean lost his hearing after a serious bout of measles when he was just one.
In 1948, he was sent to the Donaldson's School for the Deaf in the Haymarket area of Edinburgh where he learned to lip read, sign and speak.
But despite those skills, the 80-year-old said there is "no help" for deaf people living in the region.
Mr McLean, of Peterhead, said: "95% of deaf people communicate by lip reading so if we can't see what you're saying we don't know what you're saying.
"There's no help here for deaf people – there's three or four of us in Peterhead and the same in Fraserburgh.
"We struggle. If we want a social worker how do they expect to phone us and have us understand?
"We have to phone Inverurie to speak to the social worker there and it's very awkward.
"Most of them can't do sign language – Aberdeen Deaf Club has a social worker who can but I'm not allowed to use their services as it's Aberdeen only.
"The council should be doing way more but as they've certainly not done enough."
Aberdeenshire Council last night said they had a British Sign Language Plan in development, and said they wanted their services and support to be open to all.
Mr McLean recalled one of his worst experiences which happened before his deaf wife died three years ago.
He said: "We were sat waiting for our daughter in the airport, sharing a bag of crisps and people were rushing past us.
"We didn't think anything of it.
"One man stopped and stared at us for a bit but then kept walking.
"A few minutes later, the woman who sold us the crisps came rushing up to us to explain the fire alarm was going off and rushed us out – we were some of the last people left in the building.
"Another major problem is hospitals and doctors who don't write everything down as we can't pick up long words.
"The council has never been in touch to see what we need and we're left lost without any help or support."
An Aberdeenshire Council spokesman said: "We do have a British Sign Language Plan in development and all of the information you need on this plan is online.
"Anyone should be able to access any of our services at any time and this plan will further support that."
The plan aims to improve equality of access to services or support for BSL users in Aberdeenshire over the next few years. The Banff and Buchan Area Committee will discuss it at their meeting on Tuesday.