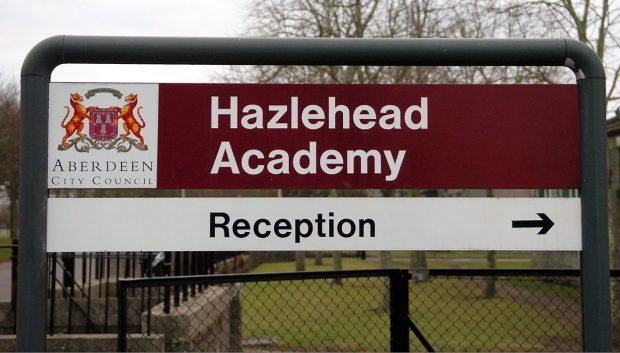 Asbestos has been found at a second Aberdeen school just days before pupils return after the summer break.
Workers replacing windows at Hazlehead Academy found the potentially deadly substance, which the council last night admitted was removed "without agreement on safe working practices".
The find is the second in recent weeks, after a similar discovery at Bridge of Don Academy last month.
Now union boss Tommy Campbell has written to senior council management to demand answers and said "enough is enough".
The Hazlehead discovery was made this week as work was being carried out to freshen up the 1970s building before pupils go back next week.
A city council spokesman said: "Works involving window replacement at Hazlehead Academy were completed yesterday.
"The council is aware that some corrugated cement panels were removed by a sub-contractor without agreement on safe working practices.
"We were alerted by a member of staff on Tuesday afternoon that work had started and the external contractor was instructed to stop work."
He added a specialised licensed contractor had been ordered to carry out remedial works, which were completed yesterday and confirmed the school will open as planned next week.
The spokesman added: "Following the previous interest in works involving asbestos at Bridge of Don Academy, the council can confirm that removal and decontamination works were undertaken and completed during August 4 and 5. The school will reopen as normal."
But Unite's regional representative Mr Campbell said the discoveries were unacceptable and demanded action.
Prolonged inhalation of asbestos fibres can cause fatal illnesses including lung cancer, mesothelioma, and asbestosis.
Mr Campbell said: "Why have the so called lessons learnt not produced different behaviours instead of the same attitude and behaviours of the past?
"There is no low level contamination as far as Unite is concerned once the asbestos is disturbed or broken it only takes one fibre that could be the cause of death later on in life.
"Enough is enough and we won't accept this poor managerial and inappropriate behaviour any longer."
Hazlehead councillor Martin Greig said: "Hazlehead Academy was built when the dangers of asbestos were not clear.
"A robust plan has to be in place to given protection from the possible hazards."
A spokeswoman from the Health and Safety Executive said the issue would be looked at next week.