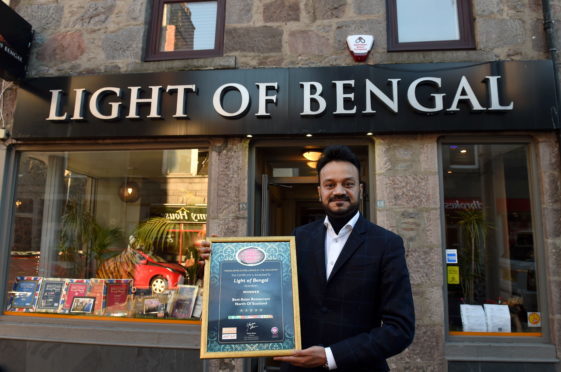 An award-winning Indian restaurant in Aberdeen has been fined £1,320 for failing to provide staff with hygiene training and a lack of "adequate" pest control procedures.
The Light of Bengal has become a mainstay of the city's food scene since opening on Rose Street in 1978 and has received a string of industry accolades.
One of the most recent came in November when it was crowned best Asian restaurant in Scotland at the Asian Curry Awards event in London.
A matter of days before winning the coveted prize, however, inspectors of a different kind had zoned-in on the restaurant to demand action be taken with regard to several areas of concern.
The establishment was ordered to improve its health and safety procedures and its hygiene standards by the time a follow-up inspection took place the following month.
But yesterday Aberdeen Sheriff Court heard bosses had failed to take action on three counts relating to the hygiene of the curry house's kitchen.
Fiscal Kelly Mitchell said health and safety officers first visited the Light of Bengal on Friday November 3 and Saturday November 4 last year.
She added: "The officers returned on December 14 and, while some of the matters regarding health and safety had received attention, some hygiene problems remained."
Company directors NA Restaurants Ltd, led by Noor Ahmed, later pleaded guilty to charges of failing to comply with hygiene notices between November 3 and December 14.
Court papers state that the firm admitted "failing to implement a food management system based on hazard analysis principles".
NA Restaurants also admitted failing to ensure all members of staff were instructed on what procedures to follow and that all staff in a supervisory capacity had learned about food hygiene.
A further guilty plea was entered to an allegation that the restaurant "failed to put in place adequate procedures to control pests" by ensuring that a "pest control screen" was closed at all times while food was being prepared.
Defence lawyer Kevin Clancy highlighted the business's previously gleaming record as its manager, Saleh Ali, sat in the dock.
Mr Clancy stressed that the demands imposed by inspectors have since been met.
He added: "The owner takes great pride in the restaurant's positive reviews."
Sheriff Sukwhinder Gill said: "I have been persuaded that hygiene notices have since been complied with, and that the breaches are at the lower end of the scale."