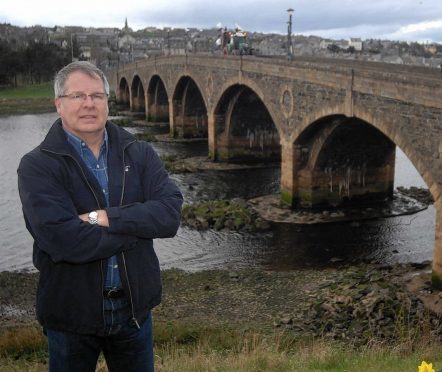 New walking routes have been launched in six north-east towns as part of efforts to change the way we travel.
The Treasure Trails are available in Banchory, Banff, Macduff, Oldmeldrum, Stonehaven and Westhill.
Maps charting the routes can be found in the library of each community.
The trail consists of six clues which have to be solved by walking the route and once they have been unravelled a six digit number will be revealed on the map.
After all of the trails have been completed the name of mystery location will appear.
Prizes will be handed out to intrepid explorers and include a limited edition pin badge featuring a logo with a vista from each town or a tote bag.
Participants will receive a Treasure Trail passport which will be stamped at each location the trail has been completed.
It is part of a pilot scheme aimed at supporting Aberdeenshire Council's efforts to encourage more sustainable and active travel.
Councillor Peter Argyle, chairman of the local authority's infrastructure services committee, said the scheme was the perfect way to combine exercise and heritage.
He said: "This is a really innovative way to encourage residents, families and visitors alike to partake in gentle exercise whilst learning about Aberdeenshire's rich history and cultural heritage. I would like to thank the Smarter Choices, Smarter Places programme for their generous funding for this worthwhile initiative."
Banff councillor John Cox got to grips with the trail around the Moray Firth coastal community yesterday.
He said: "I am really impressed with the design of the colourful treasure trail maps and the care and attention to detail that has gone into the pin badges and tote bags.
"I hope that people across Aberdeenshire will enjoy completing each trail over the coming months. The fact that this is a free activity will no doubt encourage all people to take part. I would like to wish all those participating the very best of luck."