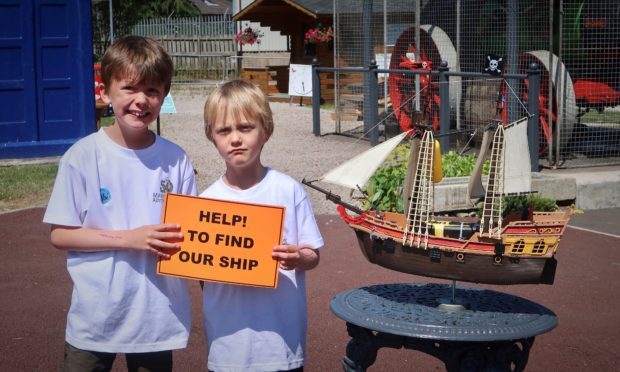 The adventurous owners of a toy pirate ship which was launched from the north-east to fulfil a childhood Sand Bucket List have been buoyed by news it was spotted just a few weeks ago near Barbados.
Named Adventurer, the modified PlayMobil ship has sailed thousands of miles across the Atlantic and into the Caribbean Sea but is now drifting without satellite tracking contact to its Aberdeenshire schoolboy owners.
Turriff brothers, Ollie, 8, and Harry Ferguson, 6, launched their PlayMobil ship from Peterhead in May last year as part of their 500-strong list of things to do before Ollie's 18th birthday.
A year later, the pirate ship has sailed 3,703 miles unassisted and was last seen heading towards Barbados, just before the battery on its tracking system died.
Now the boys have installed a replica boat in Alford's Grampian Transport Museum as part of their toy's adventurous expedition and hope the original will go on display there if it is ever found.
Last night their dad Mac Ferguson said the ship had been spotted in a "valiant salvage attempt" just 30 miles from the coast of Barbados.
He said: "A Barbados based online follower took a light aircraft out to the last location the tracker had pinged.
"They saw the ship and marked the location on a map. We confirmed the location with them from our end, but sadly when they sailed out to collect it – they couldn't find it – they tried for two days.
"They waited for a further ping – but the battery must have died.
"It was disappointing, but at least we know that it is still afloat and upright."
Now the boys are appealing to followers to help them find the Adventurer, wherever it has landed. It may be on the shoreline of Barbados, or it may have sailed on sea currents to any destination.
Mr Ferguson said: "We are keen to find the original as it has become such a legend, but at the same time he and the boys are building two more ships for further adventures from Western Australia to cross the Indian Ocean, and from Japan to cross the Pacific.
"If they succeed we will then have sailed our pirate ships around the world."
The family are looking for help for technical experts to install solar panels to the new vessels to prevent a similar fate and keep them powered up.
Anyone with information can contact the family by emailing on: mac@marvellousadventuresclub.com