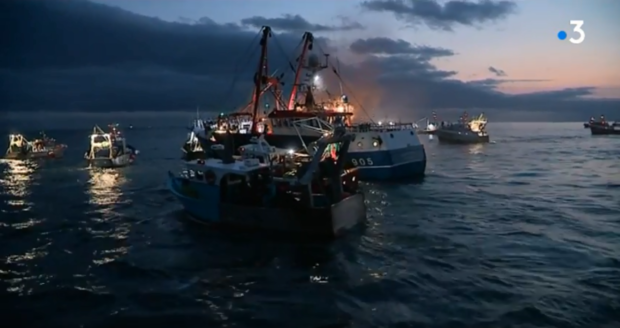 French fishermen hurled flares and rocks at a north-east trawler as a bitter dispute over shellfish turned violent.
Crewmen aboard the Honeybourne III, which is registered at Peterhead, came under fire as they attempted to fish for scallops in the English Channel yesterday.
A fleet of five UK vessels came under attack by about 40 French boats in waters near Normandy which are known to be rich with the prize shellfish.
A video has emerged online which shows the Honeybourne III being rammed by another vessel and bombarded with stones during the chaotic scenes.
And photographs have surfaced which appear to show flames and smoke rising from the hulls of some of the trawlers involved.
Jimmy Buchan, celebrity fishing skipper and business manager for the Scottish Seafood Association, said the "militant" attack had placed lives at risk and demanded action be taken to allow the UK crews to return to the waters safely today.
The clash, which ended when the British boats fled, represented the latest escalation in tensions during a long-running battle over scallops.
Normandy fishing chief Dimitri Rogoff said the 40 French boats had gathered at the spot overnight in preparation for their UK counterparts arriving in the early hours.
The French fishermen were lashing out against the incoming vessels "pillaging" a supply of scallops which they believe is rightfully theirs.
Mr Rogoff said: "The French went to contact the British to stop them working and they clashed with each other.
"Apparently there was stone-throwing, but no injuries or damage.
"The French almost surrounded the British."
French boats only have the right to fish for scallops from October 1 until May 15 to allow local stocks to regenerate, but UK crews do not face the same restrictions.
Mr Rogoff said the French trawlermen wanted the visiting fleet to stay north of a line running from Barfleur in Normandy to Cap d'Antifer to the east to avoid running supplies down.
Mr Buchan said: "I'm disappointed to see that fishermen from an EU nation have felt the need to be militant in this dispute, their actions put people's lives at risk.
"That is unacceptable to me, any problem these French trawlermen have should be taken up with the authorities rather than individual fishermen trying to earn a living.
"Our businesses are dependent on these scallops to keep their staff employed and make their businesses work.
"I have contacted Westminster to see what action can be taken to ensure some collaboration between the two nations in stopping this immediately."
David Duguid, Scottish Conservative MP for Banff and Buchan, last night stressed that the Peterhead boat was "perfectly entitled" to fish at that stretch of the Channel.
Mr Duguid said: "I have been in communication with Scottish fishing industry representatives as well as the UK Government's Department for Environment, Food and Rural Affairs.
"As far as the Scottish White Fish Producers Association (SWFPA) are concerned, our boats are perfectly entitled to fish there.
"I need to look into it further. However, based on the footage I have seen, it looks like French vessels are there to simply obstruct British vessels."