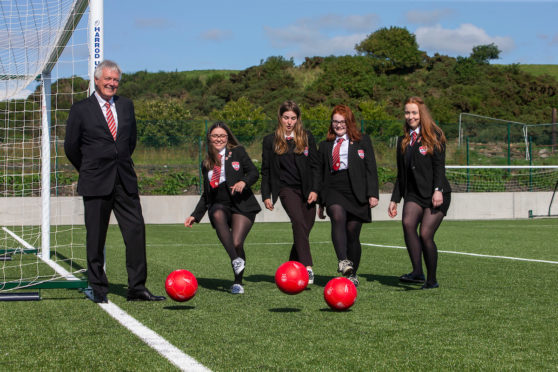 A major sports team, the son of a legendary Dons goalkeeper and a new £47 million school have teamed up to use football to teach youngsters about mental health.
Working with Aberdeen Football Club and its Community Trust (AFCCT), US-based Grassroot Soccer is trialling the scheme at Lochside Academy, which opened its doors for the first time last week.
Coaches and local mentors will mix footballing activities with "lively discussions" surrounding health and well-being to encourage youngsters to open up about the issues concerning them.
The announcement follows research by Glasgow University which found that one-in-nine young people have attempted suicide and one-in-six have self-harmed as a result of mental illness.
AFCCT chairman Duncan Skinner said: "Through our existing initiatives, we're acutely aware of the growing mental health problems among today's young people.
"Grassroot Soccer have a proven track-record in tackling adolescent health through football-based education.
"We're excited about building this curriculum with them, here in the north-east, to make a real difference to those suffering and to those affected by mental health in their families and their schools."
Grassroot Soccer was founded by Tommy Clark, the son of Scotland goalkeeping legend Bobby Clark, who spent 17 years between the sticks at Pittodrie.
It operates in around 60 countries and focuses on serious issues ranging from education and employment through to HIV, malaria and sexual health.
Mr Clark said: "We're really pleased to team up with AFC, particularly because of my family's affiliation with the club, to reach a wider audience throughout Scotland and the UK.
The scheme has the full backing of Dons chairman Stewart Milne who hopes it will be a real force for good in the north-east.
He said: "It's well recognised that sport has a proven, positive impact on mental health and well-being.
"Through the AFC brand and the power of and passion for football, we are able to touch so many lives in so many positive ways, evidenced by numerous life-changing stories as a result of the tremendous work of AFCCT.
"We're proud and privileged to be a chosen partner for Grassroot Soccer and will help spread and support their message and efforts across football in the UK."