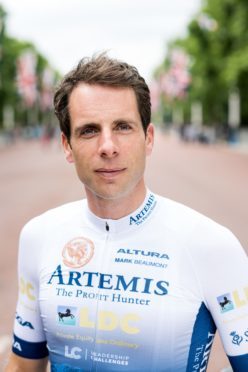 A record-breaking cyclist has encouraged people to sign up for a "once-in-a-lifetime opportunity" on the Aberdeen Western Peripheral Route (AWPR).
The GoNorthEast Festival will allow cyclists to make their way down a 4km or 18km stretch of the road on the weekend of September 8 and 9.
Famous adventurer and cyclist Mark Beaumont was at Duthie Park yesterday in an effort to inspire local people to take part.
He said: "The whole purpose of the event is to give people the opportunity to ride on a route which, after that, is going to be closed to cyclists.
"This is not just an event for race cyclists, it really is for everybody.
"I'm very pleased to show my support for this brilliant event which will bring the community together."
The GoNorthEast Festival, organised by Nestrans, will take place on the AWPR on the boundary between Aberdeen City and Aberdeenshire.
Derick Murray, Nestrans director, described the festival as a "celebration" of the benefits the road will bring to the north-east.
He said: "We are expecting 1,000 people to take part in the 18km cycle and folk of all ages at the Borrow a Bike event.
"It is hard to imagine another time people will get the opportunity to do something like this and we hope they will remember their experience of cycling on the road for years to come.
"The AWPR will help free up Anderson Drive and the city centre to enable smoother, faster and more reliable bus services.
"From an environmental standpoint, nose to tail traffic creates much more pollution, whereas free-flowing traffic generates lower carbon emissions, improving our air quality in and around the city."
As well as the chance to cycle the AWPR, there will be a number of family friendly opportunities at the festival, including an exhibition from the Grampian Transport Museum, theatre performers and arts stalls.
Speaking at Duthie Park yesterday, Beamount said he hoped the event would inspire people to cycle more often.
He said: "The infrastructure here is fantastic and the north-east is a beautiful place to ride a bike.
"You can talk about cycle routes and how people get to work or cycle in their free time, but ultimately it's about creating a culture in which people feel it's safe to go out and cycle.
"That is happening here."
To find out more or sign up, go to awprgonortheast.co.uk.