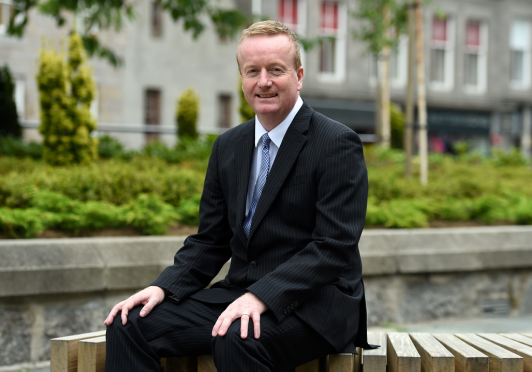 City chiefs must know how many vehicles the AWPR has successfully taken off Union Street before pedestrianisation can happen, one of Aberdeen's business leaders said last night.
Adrian Watson, the chief executive of city centre business improvement district Aberdeen Inspired, said the organisation's backing depended on that.
Banning cars from the granite mile is a major part of the 25-year city centre masterplan, which was approved in 2012 and which council leaders hope will boost the beleaguered area.
The council's co-leader said that studies would be conducted over the next year to assess whether vehicles have successfully been diverted away from the famous street.
Some pedestrianisation has already taken place at Broad Street and plans are in place for the Langstane area.
Mr Watson said "The masterplan principles sets out a high level of ambition, in terms of a considered move towards pedestrian spaces, which we can see already with Broad Street and the masterplan of course includes, in time, Union Street.
"Aberdeen Inspired is heartened that when the AWPR is fully operational work will start immediately to measure the impact it has on taking through traffic away from the city centre.
"This is so important when it comes to considering pedestrianisation, whether in part or in full, of Union Street.
"Hopefully this will make it a destination of choice rather than main traffic route it currently is – something that is at odds, for a city of this size, with almost anywhere else in the country.
"Many in the north-east still feel passionately for our main street and the wider city centre and it is important that we open our minds to all the opportunities that the impressive and on-going regional capital projects present, not least the AWPR."
Council co-leader Jenny Laing said: "Our administration remains committed to the masterplan and we will continuing to work with partners to ensure we lock in the benefits of the AWPR and realise the ambition of making the city centre a more vibrant and pedestrian friendly environment.
"Over the next 12 months council officers will be producing traffic modelling which will help to inform this work."
A Transport Scotland spokesman said: "As is usual with any Transport Scotland major project, we will be undertaking an evaluation of the Aberdeen Western Peripheral Route/Balmedie to Tipperty project.
"The evaluation will be carried out to assess the impact of the scheme by comparing conditions one year and then three years after opening with forecasts made during scheme design and development.
"As a relatively large road scheme, an additional evaluation will be undertaken five years after opening and the reports will be published in due course."