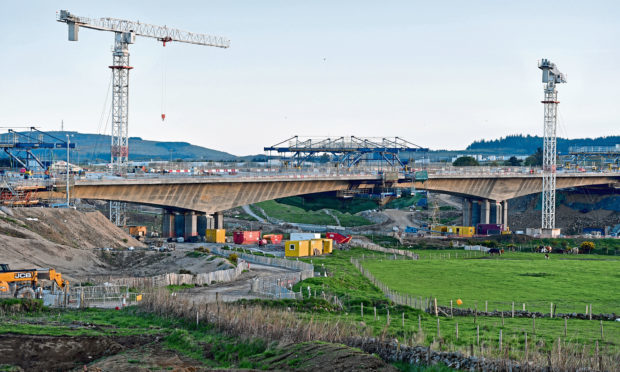 People who live on the doorstep of a festival marking the opening of the Aberdeen Western Peripheral Route at Deeside have been told to travel miles to catch a shuttle bus to attend the event.
Thousands of locals have been invited to a party, organised by Transport Scotland, on the newly finished stretch of the bypass at the Dee Valley this weekend.
But residents living nearby at Milltimber have lashed out at the "unbelievable" decision to force anyone planning to attend to get there via a shuttle bus – despite it taking place minutes from their front doors.
Motorists have been urged to park six miles away at Kingswells, while others are being encouraged to hop aboard a bus from Union Terrace in Aberdeen, about seven miles away.
AWPR bosses at Transport Scotland have argued the travel restrictions are necessary in the interests of security, and to prevent an estimated 10,000 guests across Saturday and Sunday from causing traffic chaos by attempting to drive to the event.
Claire Hudson, who lives at the bottom of Contlaw Road in Milltimber, explained she would be able to get a lift there from organisers as a special guest – but her neighbours have not been so lucky.
She said: "The others who live nearby, such as my friend just along the road at Contlaw Brae, don't have this special status.
"So if they want to go, they're being told to travel to Aberdeen and get a special shuttle bus, or get one from the Kingswells Park and Ride.
"It's quite unbelievable really that they are not just being allowed to walk in and have to take this massive detour.
"Why they couldn't have just asked people their postcodes and see if they wanted to walk in?"
In a letter sent to Ms Hudson, seen by the Press and Journal, event planners explained that the regulations were imposed to prevent "indiscriminate parking".
AWPR assistant managing agent, Barry Beattie, told her: "The parking restrictions promoted are primarily to prevent any indiscriminate or inconsiderate parking which may cause nuisance for local residents during the event.
"This is likely to attract interest from other areas, we do not want to create an unnecessary parking problem for local residents.
"It has been necessary to provide access to the event by shuttle bus for visitor safety and security reasons.
"I appreciate this may seem inconvenient to those living locally, but we anticipate there could be in the region of 10,000 visitors."
Residents living right next to the site have been offered separate transportation.
A Transport Scotland spokesman said: "Visitor safety and security is our absolute priority for any large public event. For the family-focused GoNorthEast Road Festival, a free event bringing together all communities who will benefit from the AWPR/B-T, it is essential to transport people on to the site in a controlled fashion.
"Access to the site will therefore be via shuttle bus only, without exception. This will avoid any unnecessary interaction between private vehicles and pedestrians, creating a safe environment for everyone to enjoy the day.
"Consequently we have made it a priority to minimise any further inconvenience to residents by using dedicated parking sites for this event and urging people to use public transport into the city centre where they will be provided with free bus access to the event. This is also the most effective and fairest option for all."