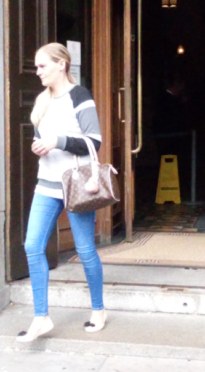 A north-east woman got behind the wheel of a car to buy cigarettes when six times over the drink driving limit and told police it was her husband who had been driving.
Aberdeen Sheriff Court heard yesterday that Isabella White was at home with a friend who had recently finished a relationship and the pair were drinking together.
White then realised that the shop where she bought cigarettes was closing soon and decided to drive there to buy some.
While driving, she was seen stopping and starting and colliding with the kerb on Manor Avenue, Provost Rust Drive, Howes Crescent and Bonnyview Drive and witnesses contacted the police.
Officers then followed and saw her stop the car and were told by members of the public which property she had entered.
When they knocked on her door, she admitted the keys were hers and showed them to officers, but claimed her husband had been driving.
Police noted that she matched the description given by people who called the police and breathalysed her and she was found to have 121 microgrammes of alcohol in 100 milliletres of breath. The legal limit is 22.
The 34-year-old confessed to being over the limit and misleading the police during an appearance when she appeared in court yesterday.
Representing her, defence agent Stuart Murray said: "She told Police Scotland her husband was driving the vehicle.
"It is a straightforward offence, she had a friend round that evening, the friend had been in a relationship that had broken up."
"She wanted come cigarettes and knew the shop was about to close.
"She is a first time offender who pleaded guilty at the earliest opportunity."
Sheriff Philip Mann banned White, of Longview Terrace in Aberdeen, from the roads for 32 months and fined her £500.