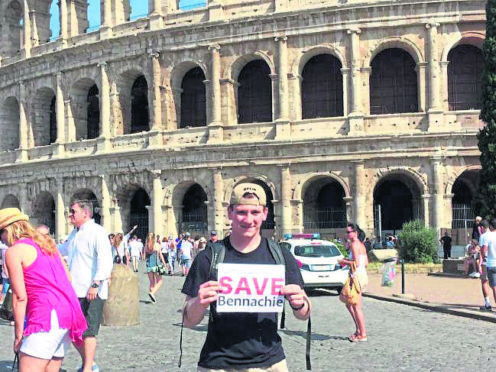 A worldwide campaign is underway to prevent a dual carriageway being driven through one of the north east's most iconic hill-scapes.
Bennachie is hugely popular with hillwalkers at home and abroad and its rejuvenated visitor centre is welcoming an increasing number of tourists.
Transport Scotland, however, plans to upgrade the A96 Aberdeen to Inverness road to a dual carriageway by 2030.
And while a number of route options near Inverurie are being considered, some of those encroach upon Bennachie and its surrounding area.
One proposal would take the carriageway over the foot of the hill, metres from the now award-winning visitor centre.
---
>> Keep up to date with the latest news with The P&J newsletter
---
That revelation has horrified both locals and the legions of visitors who have made it a must-see destination on their holidays in Scotland.
The Save Bennachie Alliance has been launched to protect and defend Bennachie and its surrounding area from any encroachment by the new road.
Already, the group has been inundated with photographs by supporters holding a 'Save Bennachie' placard in all four corners of the world, including Italy, New Zealand, Malaysia, India, Japan, Ecuador, Costa Rica, Hong Kong, Mexico, the USA.
Group member Lynda Bain said it was vital that everyone who has fallen in love with Bennachie over the years be fully aware of what is proposed.
"It's important the public know the area is under threat," she said.
"A lot of people love it and we want to make them aware that we want to fight this.
"It's really important local people get involved in this process, because there are a lot of people across Aberdeenshire who love Bennachie."
The group is urging locals and expats to put their feelings for the historic hill into words by recording a ten second video clip explaining why they love Bennachie.
The clips will be uploaded to the campaign's Facebook and Instagram accounts in a bid to stop plans to construct a 26-mile road crossing the lower slopes of Bennachie as part of the new eastern section of the A96.
Ms Bain added: "Bennachie is often described as Scotland's best-loved hill.
"People come here to walk, run, bike and ride.
"You can run to the top, or sit still and find inner peace, meet an international mountain biker in training or you might be even luckier and see a pine martin or goshawk.
"Maybe you have never walked to the top, but your first glimpse of Bennachie from the top of Tyrebagger means you are home.
"If you want to protect everything that Bennachie stands for, take a moment to tell us why.
"All it takes is ten seconds to save Bennachie."
Clips should be submitted to hello@savebennachie.com and uploaded to personal accounts using the hashtags #savebennachie and #10secondstosavebennachie.
To see what others have said and to see supporters' photographs from across the world, visit www.savebennachie.com.
The Save Bennachie Alliance is made up of 14 groups including community councils, environmental trusts, business associations and outdoor groups.
Save Bennachie group member Margaret Garden said: "It started out as a Facebook campaign and it just snowballed.
"We're thrilled and touched that so many people in so many countries have supported the campaign. It just underlines how beloved and how important Bennachie is."
A Transport Scotland spokesperson said: "The Scottish Government has given a clear commitment to completing the dualling of the A96 between Inverness and Aberdeen by 2030.
"This is an ambitious target but one that underlines this Government's commitment to connecting Scotland's cities with a high quality transport system that will generate economic growth.
"Following the appointment last July of a design consultant for the section between east of Huntly and Aberdeen, the route options assessment work is ongoing and we expect to consult later this year on the options which are developed with a view to identifying a preferred option for the route in 2019.
"Meaningful engagement with communities and local groups, including the Save Bennachie Alliance, is a key part of our work as we develop the plans.
"This engagement will continue as we progress our plans and we will ensure that communities, businesses and individuals affected by the work are kept fully informed and their vital feedback taken into account."
News of the threat to Bennachie came as its visitor centre was crowned the region's Tourist Hotspot of the Year.
The Bennachie Visitor Centre received the award at the Pride of Inverurie Awards 2018.
Since 2014, the visitor centre has undergone a series of improvements, including the creation of an indoor seating area where visitors can enjoy snacks and hot drinks.
Visitor facilities have also been enhanced with the a community room, touch-screen 'Bennachie Experience' and a new information and retail area all added.
This has helped to drive an increase in visitor numbers from 15,000 a year in 2007 to 40,000 a year in 2017.
It has also been awarded four star status by VisitScotland.
Receiving the award ceremony at Inverurie town hall, Jan Lythgoe of the centre said: "We were delighted when we heard that we were finalists in this category alongside Inverurie Gold Club and Castle Fraser.
"To be the winner is amazing. The Pride of Inverurie Awards have helped put us on the map as the tourist destination in Garioch."
The Bennachie Visitor Centre is run through a partnership agreement between Aberdeenshire Council, The Bennachie Centre Trust, Forest Enterprise Scotland and the Bailies of Bennachie.
It is open daily from April to October from 10am to 5pm.