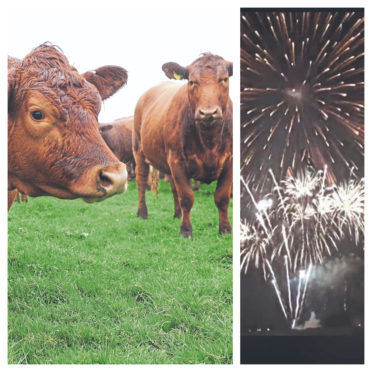 Angry farmers have claimed their livestock were "terrorised" by the industrial-strength fireworks set-off to celebrate the opening of the north-east's offshore windfarm.
The spectacular display took place on Balmedie beach on Friday as the European Offshore Wind Deployment Centre (EOWDC) was officially introduced to dignitaries.
Residents in the Balmedie area were also invited to the event, which was organised by windfarm owners Vattenfall.
---
>> Keep up to date with the latest news with The P&J newsletter
---
But while some locals revelled at the night-time display, neighbouring farmers looked on in horror as the loud bangs created havoc within their herds.
Moira Davidson of Tarbothill Farm at nearby Blackdog was one of those affected and said she'd been angered by the lack of forewarning.
"I have 150 cows in my herd and they were all in a right state," she said.
"Think of the average person's cat or dog and their reaction to fireworks and you can understand what happened. And these weren't your average domestic fireworks. These were great big supercharged ones."
She hit out at the organiser's lack of consideration for locals, adding: "The poor cows were terrified out their wits, leaving them running blindly around in the dark.
"Surely the fireworks could have been sited in an area away from livestock. A contact number and the correct time that the fireworks were being set-off would also surely not have been a lot to ask.
"After all, we are the ones who have to pick up the pieces and live with the consequences."
Natalie Ghazi, Vattenfall's local liaison, apologised for any distress caused.
"Friday's fireworks display to mark the inauguration of the EOWDC was designed to be a celebratory event for community groups up and down the coastline," she said.
"A notice about the display was delivered beforehand by our contractor to the homes in closest proximity to the event.
"We apologise if the fireworks caused any distress."
The wind farm, situated around 1.5 miles from the shore, is expected to produce enough electricity to meet the demand of almost 80,000 homes a year.
It was exported to the national grid in July and two of its 11 turbines are said to be the most powerful in the world, generating enough energy with a single rotation to power an average home for a day.
First Minister Nicola Sturgeon was among the visitors last week, saying the offshore development was surely impressive enough to convince even its toughest critic, Donald Trump.
The US president, who owns the nearby Trump International Golf Links at Menie near Balmedie, was a vociferous opponent of its construction.