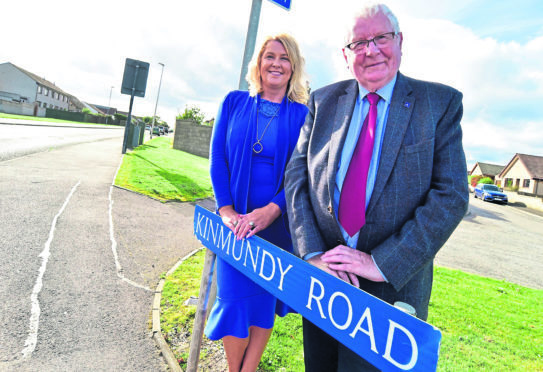 Campaigners have said they are "livid" and feel "ignored" by councillors investigating complaints about motorists speeding down a residential road in Peterhead.
A recent study shows drivers are now travelling faster down Kinmundy Road than a similar speed count carried out last year.
Aberdeenshire Council has proposed installing signs to warn motorists of their speeds with a device which will measure whether it has an effect on their behaviour.
---
>> Keep up to date with the latest news with The P&J newsletter
---
The 30mph limit road is based along a residential area, linking the A90 Peterhead to Fraserburgh Road with Meethill Road.
Aberdeenshire Council has also proposed building a three metre wide lay-by outside Clerkhill Primary School, on Cairntrodlie, for parents to use to drop off pupils to help ease congestion in the area.
But residents have been left furious claiming that the speeding problem is being "ignored".
George Wilkinson, a 75-year-old disabled man who lives on Kinmundy Road, said: "We've been fighting for three-and-a-half years for low impact tar and traffic bumps as that's the only thing that will help the speed and noise problems.
"I can't open my windows or put my TV off because of the noise, we don't use our garden or let the grandkids out to play due to the speed people go.
"There has been four accidents but no fatalities yet.
"We're fuming – they ignore us even when there's people speeding on this road.
"The road is a rat run – I'm livid it's not being sorted."
Neighbour, Douglas Lamb, agreed.
He said: "This isn't going to help our problem one little bit.
"People are free to use this road as they please but with the amount of speeders here – it's only a matter of time before someone gets killed and God forbid it's a child."
The proposal is due to come before the Buchan area committee on Tuesday.
Chairman of the committee councillor Norman Smith said: "Every member of the committee, bar one, backed action to address these traffic issues and I'm pleased the findings of the roads department have strengthened the case for the improvements we called for.
"I look forward to discussing the report at next week's area committee and commend the six Peterhead councillors who worked together across ward boundaries and party lines to push for this."
Peterhead South and Cruden councillor Alan Fakley said: "As a resident of Cairntrodlie, I'm particularly pleased to see the parking issues at the Clerkhill school addressed.
"This issue was brought to my attention during the local election campaign and it shows what can be achieved when we work together across the political divide for the benefit of our constituents."
But councillor Alan Buchan agreed with the campaigners and stated that the lay-by had no relevance to the speed and volume of traffic on Kinmundy Road.