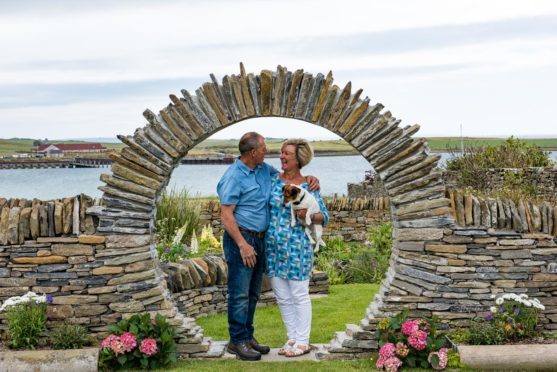 A charity originally created in a diminutive garden in Orkney is aiming to provide a therapy garden for patients in Aberdeen.
Friends of the Neuro Ward, founded by Caroline Critchlow, supports Ward 205 at Aberdeen Royal Infirmary, which treats patients who are undergoing treatment for brain tumours.
In 2013, Mrs Critchlow opened her own garden in Orkney to raise funds for the ward, after her husband was diagnosed with a brain tumour.
Kevin Critchlow underwent a gruelling 22-hour operation at ARI to have his acoustic neuroma brain tumour removed, and was left deaf in one ear with a total paralysis on the left side of his face.
It was the poor conditions of the neuro ward that inspired Mrs Critchlow to launch a charity campaign.
She said: "The day room was completely dilapidated, the wallpaper was coming off the walls, and the coffee table was broken.
"It was a very scary place to be, so that's when we decided we would raise money to refurbish it.
"So we opened our garden here in Orkney. Folk from all over the island turned out and we raised more than £1000.
"We also became very aware that other people also wanted to thank the ward and support it by fundraising, so the charity was born."
---
>> Keep up to date with the latest news with The P&J newsletter
---
Five years later, with £3million raised to-date, the charity hopes to build a therapy garden at the Neuro Rehabilitation Unit at Woodend Hospital in Aberdeen.
The unit treats patients from Aberdeen, Aberdeenshire, Moray, Orkney and Shetland.
Mrs Critchlow said: "When I found a derelict garden at Woodend adjoining the Neuro rehabilitation ward, I decided it was in desperate need of a total makeover.
"Our idea is that the wards will become garden wards with access to the garden from each room.
"Gardening is known to be extraordinarily therapeutic and our plan is to get the patients involved in its upkeep with a trained member of staff supervising the horticultural activities.
"At the moment, the garden has unwanted visitors who climb over and damage the little of the garden that remains.
"Also, sadly some of the patients have damaged or recovering brains require a secure environment, so a safe space is a priority."
Friends of the Neuro Ward recently won small charity of the year and in a highly contested category of 70 nominations.
Ms Critchlow added: "Carolyn Toshney and myself picked up the award and we have now placed it in the ward on the front desk for all to see.
"I thanked Celebrate Aberdeen and explained that both Carolyn and myself have husbands with brain tumours and that we started the charity in order to say thankyou for saving our husbands lives.
"Brain tumour research receives just 1% of cancer research funding despite being the biggest cancer killer of children and men under 40 and this puts great pressure on our neuro sciences ward. Tumours are often diagnosed too late for curative treatment and the ward needs to be a haven of calm, comfort and peace for those last precious days of life for many."
Friends of the Neuro Ward is seeking a local company to fund their therapy garden, as well as a designer to help with the preparation.
To lend support, email info@friendsoftheneuro.org.