More than £22,000 worth of fines have been dished out by Aberdeen City Council in the first month of a controversial bus gate scheme on one of the city's most iconic streets.
Cameras on Broad Street were enabled on August 17, following a short grace period after they were installed during the final touches of the road's £3.2 million refurbishment to transform it into a pedestrian and bus-only area.
Anyone caught driving a vehicle other than a bus is faced with a £60 penalty charge notice, which can be reduced to £30 if paid within 14 days.
In the first 30 days after the cameras were switched-on, almost 400 drivers were hit with fines after flouting the new rules.
A similar bus gate scheme installed on the city's Bedford Road, following the completion of the Third Don Crossing in July last year, brought in a staggering £1.34 million in penalty notices in its first eight months of operation.
A spokeswoman for Aberdeen City Council said: "Broad Street has two cameras on its bus gate, and it should be emphasised that motorists travelling all the way through the bus gate would have one of their two tickets cancelled.
"The total number of tickets for the first camera is 382, and the second camera is 344 tickets. These figures do not take into account any appeals or cancellations.
"There is signage to indicate part of Broad Street is for local buses and cyclists only and we would strongly advise motorists to be aware of the signage and use alternative routes."
Broad Street's bus gate was put in place after the city council voted to allow buses to use Broad Street's "shared space" instead of opting for full pedestrianisation.
Liberal Democrat group leader at the city council, Ian Yuill, said although the signs are "prominent", the high number of fines dished out by the local authority is evidence that motorists are still unsure about the new rules at the bus gate.
He said: "You would certainly hope that because of the prominent signage, people would realise that Broad Street is a bus, pedestrian and bike only area now – there's also been a lot of publicity about it.
---
>> Keep up to date with the latest news with The P&J newsletter
---
"But having said that, there is obviously still quite a lot of confusion. I would hope that the frequency of fines goes down in the near future as people learn to adapt to this change.
"Our view in the Liberal Democrats of course is that Broad Street should be entirely closed off to all vehicles but bicycles. If there were no buses allowed this wouldn't even be an issue.
The Press and Journal set up a camera to keep track of everyone driving through the bus gate.
In the space of just 24 hours it caught 31 people including lorry and taxi drivers.
"Broad Street should be restricted to pedestrians and cyclists only. We do not believe it is safe as it is.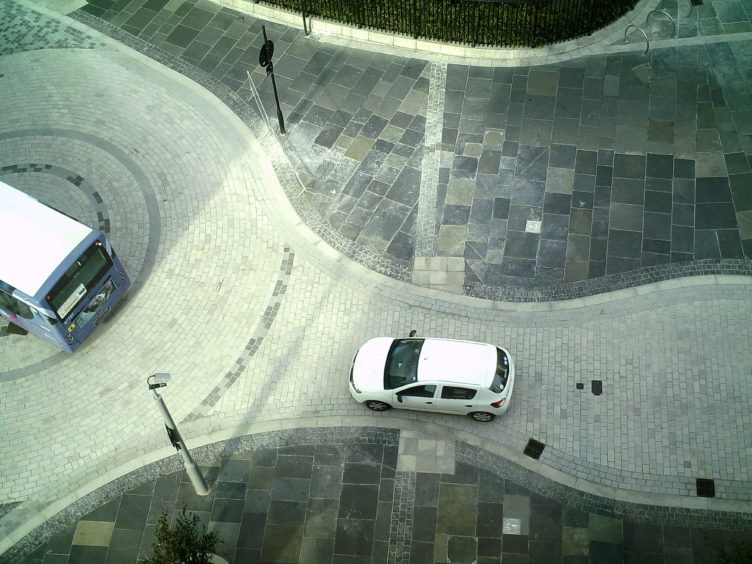 "While we have this situation where buses are allowed on the road, however, then we must have these cameras in place to enforce these rules."
Concerns had also been raised about the issues "shared spaces" like Broad Street pose for blind or partially sighted people because the road and pavement are at the same level.
SNP councillor Michael Hutchison, who represents the George Street and Harbour ward said: "It's disappointing that so many vehicles have been using Broad Street since its reopening.
"This will of course raise further concerns for those groups who are already uneasy about shared spaces."