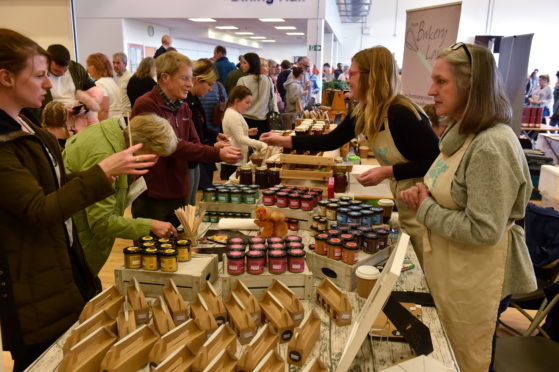 Thousands of people savoured a taste of the best fare the north-east has to offer at Deeside Food Festival yesterday.
From jams to jalapenos, cheese to chocolate, cottage industries and kitchen table firms are big business and more than 60 stallholders pitched up at Cults Academy to sell their wares to the 3,500-strong crowd.
Artisan food and drink producers have experienced a resurgence in recent times, fuelled in many cases, by the down-turn in the fortunes of the oil and gas industry.
Some have gone through a career change to enter this lively sector and are running their businesses while simultaneously pursuing a career in an entirely different area.
Pete Dignan and Richard Pearce of the Lost Loch Distillery, for instance, combine their passion for producing craft spirits such as gin and absinthe, with life offshore, working for Bibby and Conoco Phillips.
Mr Dignan said he was looking forward to introducing his firm's locally-sourced, handmade craft spirits to a wider audience.
Fellow stall-holder, Ellie Louise Sinclair, of VegCo, completed a degree in media studies, before joining the family business, Sinclair Agricultural and Recycling Services Ltd.
She uses an anaerobic digester to power an indoor greenhouse, where she grows a range of tomatoes and chillies to produce cooking sauces, jams and meat rubs.
The festival, now in its fourth year, is organised by The Mixing Bowl Aberdeen, a community-led food interest group.
Rachel Gambro, who is on the committee, has also experienced a career change from manufacturing engineer to food festival organiser.
She said: "We offer a unique chance for residents and the local community to come together and enjoy a family day out, while supporting local food businesses.
"This year, we also had a dairy calf and sheep paying a visit, giving children a great opportunity to see the animals and the chance to speak to the farmer."
In association with Kippie Lodge Sports and Country Club, the festival also hosted the Aberdeenshire Rock Choir, who entertained the crowds, along with other dancers and musicians.
Elsewhere, food and drinks talks took place, including a foraging discussion by Leanne Townsend of Wild Food Stories, while distillers Glen Garioch spoke of their Legends Lunch.
Aberdeen resident, Karen Scaife said she wished there were more such events on the calendar throughout the year.
She added: "It's great to see all these local producers and good for the kids to learn a bit about where their food comes from.
"Aberdeen needs more events like this."