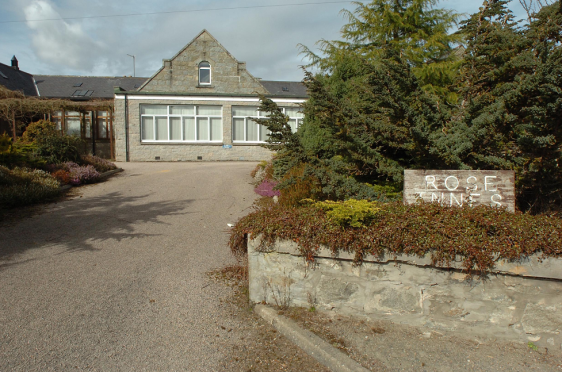 Proposals have been unveiled for the construction of two new properties at a former north-east care home.
The Rose Innes facility in Aberchirder was run by the council until in closed 12 years ago after failing to meet Care Commission standards.
It lay empty for a decade before being put up for sale in 2016, but planning permission to convert the home into 12 flats was granted in March this year.
However, just two months later in what has been a protracted saga, the building was back on the market.
Work had already started subdividing each of the apartments before the project was halted.
Shepherd Chartered Surveyors asked for offers of £350,000 for the site.
The company's commercial agency associate James Morrison said yesterday: "There is full planning consent for the conversion of the property to 12 residential units which, upon completion, will provide five one bedroom, three two bedroom and four three-bedroom apartments.
"Works have already commenced on the property with the subdivision of the units."
Aberdeenshire Council has confirmed it has since been successfully sold.
And now, the developer behind that idea has submitted fresh blueprints for the South Street property, which could lead to two semi-detached homes being built on the grounds at Rose Innes.
Drawings by Banff-based Mantell Ritchie architects show the potential development would be created behind the care home.
They indicate that the new buildings would have three bedrooms, a kitchen and dining area and adjoining garages.
The blueprints have been assembled on behalf of Aberchirder-based developer EDTW Properties Ltd.
Last night, Edward Wilkinson, the company's sole director, could not be reached for comment on the revised proposals.
A survey carried out by Aberdeenshire Council's North East Scotland biological records centre has revealed the defunct facility is home to pipistrelle bats.
A previous study carried out by local councillor and licenced roost visitor Isobel Davidson found five animals living inside the structure.
She said a licence to disturb the roost would not be needed as the work was "unlikely" to disturb the bats.
The building opened as a hospital in 1900 and became a residential care home in 1960 before its eventual closure almost five decades later.