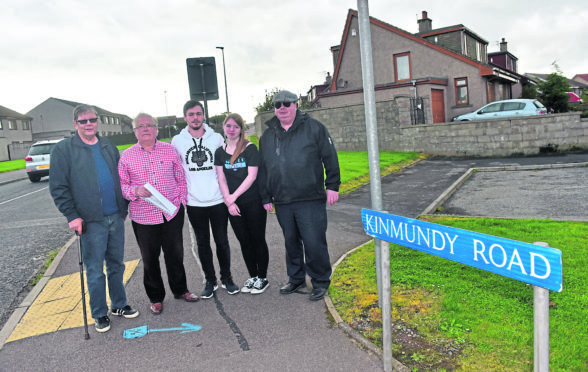 Councillors have backed action to tackle the problem speeding on a notorious Peterhead road but campaigners have said they must be the "first steps" in a more significant effort.
Members of the Buchan Area Committee agreed to introduce temporary speed signs after a report prepared by Aberdeenshire Council showed 85% of people travelling on Kinmundy Road were travelling in excess 30mph.
As a whole, the committee was also in agreement about a proposed layby at Clerkhill Primary School, which they hope will help address congestion issues.
Nonetheless, there were concerns raised about how successful the measures will be and council officials had to field numerous searching questions from elected members.
Councillor Anne Allan was concerned the signs would be less successful once the novelty wore, with officers confirming it was likely that "over time they become less effective".
The signs will, however, have a secondary use as the committee heard they will also be set up to record the speeds people travel at to better inform road safety measures and assess the most dangerous times of day.
Councillor Alan Fakley said: "It's good to see we're moving towards understanding the problem as we then know what measures to put in place."
But councillor Alan Buchan said he remained unhappy about the proposals having been told that vehicles had been recorded at 75mph and 86mph as part of the study.
Officials said it was possible the vehicles were related to the emergency services but they could not say for certain that was the case.
Mr Buchan said: "The figures show people speeding at over 60mph – the equivalent of which on a dual carriageway would be going 100mph.
"Speed cushions or islands could be put in to force traffic to slow and HGVs – of which there were thousands in the count – should be going else where."
Despite eventually agreeing to support the proposal, Mr Buchan said after the meeting: "This is very much a face saving exercise by the council as I have been highlighting the speeding traffic for seven years.
"Vehicles are being recorded traveling at well over twice the speed limit.
"Hopefully lights will be the first step in getting proper traffic calming measures into this residential areas, which usually would have 20mph so near to a school."
Committee chairman Norman Smith said: "I have sympathy for the people who live there but the last question I asked was if everyone was in agreement and as no one spoke out it seems to be a pretty positive outcome."