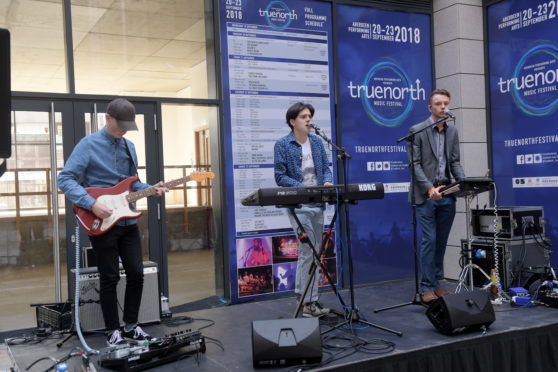 A celebration of one of music's greatest legends capped off a weekend of live entertainment in Aberdeen last night.
The True North festival began on Thursday night and filled venues across the city over the subsequent evenings.
Indie band The Magic Numbers, who rose to fame in 2005 with Forever Lost, headlined the festivities at the Lemon Tree on Friday night and Scottish cult favourites Mogwai played to an appreciative crowd at His Majesty's Theatre (HMT) on Saturday.
However, the most eagerly anticipated show of the weekend took place last night when a variety of artists joined together to pay tribute to David Bowie.
Critically revered acts like Camille O' Sullivan, Duke Special and Eliza Carthy were joined by Game of Thrones and Peaky Blinders actor Aidan Gillen on stage for an emotional evening which brought many in attendance back to their youth as the Thin White Duke's extensive back catalogue was covered.
Torry and Ferryhill councillor, Alan Donnelly, said that events such as True North were vital for breathing new life into the beleaguered city centre.
He said: "Exciting events such as this are going to be crucial for bringing more people into our city centre.
"Given it is a bank holiday weekend as well, I think this should provide a welcome boost to traders and pubs in the city.
"The night time economy has been badly hit with the downturn and there are some bars and nightclubs now surviving on two nights a week takings."
Most performances took place in traditional venues like the Tivoli Theatre, Lemon Tree and HMT.
But a makeshift stage was set up beneath the leopard sculpture in the Marischal Square complex on Saturday and Sunday afternoons, where crowds gathered to watch some local performers while tucking into Mackie's ice cream beneath the Press and Journal offices.
After the Lady Stardust show in honour of David Bowie ended, many revellers rolled back the years with one last singalong to chart-topping Scottish rockers Glasvegas, who rose to prominence a decade ago.
The weekend was brought to a rousing finale as a packed Lemon Tree roared in unison with lead singer, James Allan, while he belted out memorable anthems such as Daddy's Gone and Geraldine.