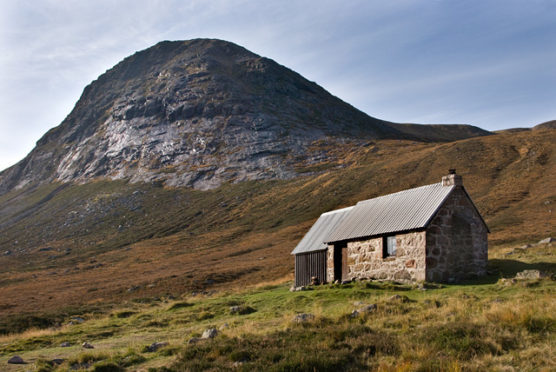 Vandals have wrought havoc at one of Scotland's best-known and best-loved mountain bothies.
New toilet facilities were damaged and piles of rubbish left behind at Corrour Bothy in the Cairngorms.
Those responsible were dubbed "ignorant yahoos" by Neil Reid of the Mountain Bothies Association.
He made the long trek to the bothy to clean up the mess, alongside two of the association's other volunteer members.
The vandalism was particularly dispiriting for those who use the bothy as it is only a matter of days since extensive renovations were undertaken.
1/ Great words Neil and something we've been thinking about for some time. We'll unlikely influence the behaviour of the idiots, but as like minded mountain folk we can make a real difference if we chose to help and not ignore….https://t.co/9TTvSdH2JL

— BraemarMRT (@BraemarMRT) September 24, 2018
The bothy had been closed since June to allow teams to carry out repairs and improve toilet facilities in an effort to lessen the burden upon the volunteers who care for the building.
Scotland's iconic bothies have been a refuge for travelers an walkers for decades free shelter and often a place for camaraderie, music and the making of friends.
Usually left unlocked, they are to be found in remote mountainous areas across the country and are particularly common in the Scottish Highlands.
They rely on the good graces of users to keep them stocked and in good condition and on a network of volunteers who look after them.
Mr Reid it was "pure selfishness" to make use of the facilities and then despoil them for others.
He said the group responsible had left a rubbish bag containing a tent, a sleeping bag and quantities of wet clothes and damaged the new toilets.
"This was a group of people, ostensibly outdoors enthusiasts, who put their own selfishness above even a basic respect for the bothy," he said.
"Lots of folk – myself included – enjoy a drink in a bothy, but this was a bunch of ignorant yahoos who clearly had no notion of even reporting the damage they caused and compounded it by leaving several kilos of rubbish and abandoned kit for others more civically minded to remove for them.
"The repair required taking time off work and spending a full day on it.
"It's pure selfishness and contempt for others."
Mr Reid said any rubbish that cannot be burned in the fire of bothies should be carried home for disposal.
Other recent vandalism at remote bothies in the Cairngorms has included the legs being sawn off a sleeping platform to burn in the fire of Tarf Hotel, also known as Feith Uaine.
---
>> Keep up to date with the latest news with The P&J newsletter
---
In the wake of the Corrour damage, the Braemar Mountain Rescue Team has asked people to take care of the country's environment and to clean up rubbish.
In an online post, a spokesman wrote: "We'll unlikely influence the behaviour of the idiots, but as like minded mountain folk we can make a real difference if we chose to help and not ignore."
The team urged anyone who spots littering in Scotland's mountain environment to take pictures and post them online to raise awareness of the issue.