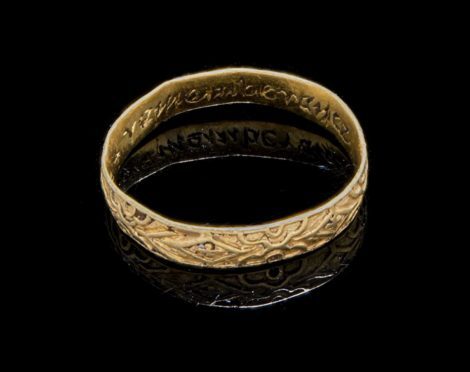 A piece of historic jewellery unearthed in Fraserburgh could soon be displayed in the port.
The 17th-century ring was discovered by someone using a metal detector in the town who sent it in to the Crown Office's treasure trove unit.
Now, it has been acquired by the council's museum service and they are hopeful the centuries-old jewellery can be shown off to locals in Fraserburgh.
It is currently being showcased at Peterhead's Arbuthnot Museum.
The inside of the ring has words inscribed which were added at a later date and the item was later used as mourning ring to commemorate someone's death.
A treasure trove document details the condition of the piece.
It said: "A gold finger ring, hoop slightly distorted, was found at Fraserburgh.
---
>> Keep up to date with the latest news with The P&J newsletter
---
"The exterior of the ring is decorated with a repeating frieze of lozenge-shaped panels with crosses set at the centre and there are traces of white enamel in the decoration.
"Based on more intact examples, the enamel would have filled all of the negative relief on the exterior.
"The interior of the ring is engraved with the brief inscription 'in remembrance', indicating it is a mourning ring although there are no initials or name indicating the individual commemorated."
Helen Chavez, collections management officer for Aberdeenshire Council, said the ring was a "must-have" for the Mintlaw-based Museums Service's collection.
She added: "The ring was found by a metal detector who sent it to treasure trove.
"It fits perfectly into our Collections Development Policy and make a wonderful addition to the collections, so the finds panel allocated it to us and the ring became part of Aberdeenshire Council Museums Service's collections.
"We have very little archaeology from Fraserburgh, so it was a must-have as far as we're concerned.
"It is an exceptionally fine ring, early 17th century, and it would have been enamelled.
"It was probably a wedding ring and inscribed at a later date 'In remembrance'.
"We hope in time to exhibit the ring in Fraserburgh, probably in the library, so the community can see it."