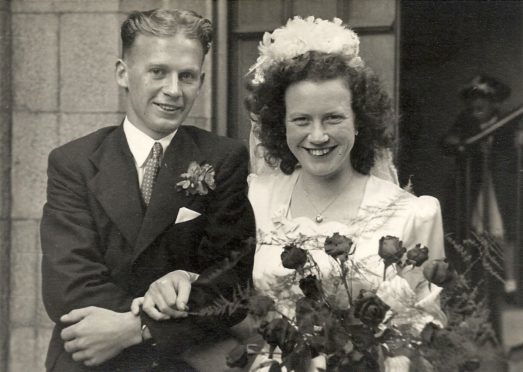 An Alford couple who met through their siblings have celebrated their 70th anniversary.
Friends Margaret Mathers and Cathy Black had no idea that when they began living together, they would find love – with each other's brothers.
Margaret began seeing Cathy's brother Jim after a chance meeting at their family home in Tarland. By then, Cathy was already in a relationship with Margaret's brother Bill and before long wedding bells sounded for both couples.
Margaret and Jim got married in Aberdeen on September 21, 1948, before moving to Edinglassie, Stoneywood and then Keig.
In Keig, Jim worked as a handyman and gardener at Castle Forbes while his wife took a job in the ladies drapery section of Gordons of Alford.
But the couple became more widely known after taking the helm at Haughton House Holiday Park, where there is a caravan and camping site.
Jim was appointed warden and Margaret initially ran the site shop, become becoming assistant site warden until their retirement in 1991.
The couple celebrated their platinum anniversary surrounded by family and friends, including sons William and Alistair.
Margaret said: "The weekend was a complete joy.
"We had every one of the close family in Alford for the weekend – our two sons with their families including all grandchildren and great-grandchildren.
"Nothing pleases me more than having a family gathering."
She revealed that she believes the secret to a successful marriage was maintaining "a happy family with everyone in harmony."
They were also visited by Malcolm Forbes, the 23rd Lord Forbes, who was a boy when Jim worked for his father at the castle.