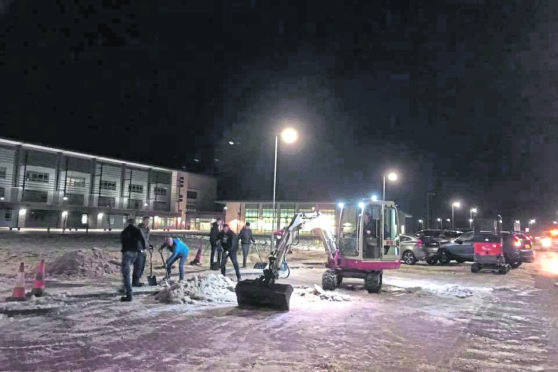 A group of parents have banded together and launched a crowdfunder to help make their childrens' school safer during the winter months.
Last year Ellon was one of many areas covered in snow and ice as temperatures plummeted in the north-east.
Many playgrounds and surrounding school paths became treacherous and parents across the region were forced to pick up a shovel and pitch in.
Ellon Academy's parent council has decided to pre-empt the colder temperatures and purchase new snow-clearing equipment, after it became apparent the size of the school had rendered the current tools redundant.
The old academy had just one car park and pathways around the building that needed cleared.
The group has now launched a crowdfunding campaign to raise almost £8,300 for an ATV vehicle, a snow plough kit and a towable gritter.
Simon Ruddy, a member of the organisation, said: "The new school is three times bigger than the old one, with only two janitors, so they couldn't cope last year.
"They do have equipment but it's old and not fit for purpose anymore so we thought we would buy new tools.
"The school is responsible for clearing the paths around the school so it's not part of the council's programme of roads that it clears and grits."
Ellon Academy head teacher Pauline Buchan said it was a busy site with up to 700 people using facilities at the community campus at the weekend.
She said: "We are hugely appreciative of the support of the parent council and, hopefully, the community.
"This will make a huge difference and it will be safer too as we don't want any vehicle collisions or our pupils getting hurt, because the ice can make it dangerous for pedestrians."
An Aberdeenshire Council spokesman said: "We are supportive of any measure that will help keep people safe should there be heavy snow during the winter months.
"The replacement snow equipment will help ensure that the pathways, car park and entrance is cleared of ice much more quickly.
"We are also grateful to the parent council for working with the Ellon Academy senior leadership team in coming up with a proactive plan in keeping the school safe should the weather be particularly nasty this winter.
"We would like to wish the Ellon parent council the best of luck with their fundraising efforts."
To donate to the crowdfunder click here.