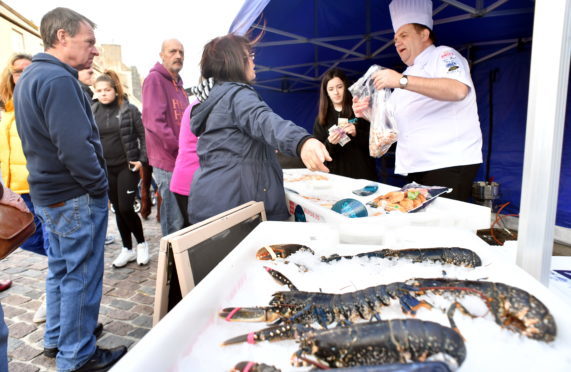 Thousands of people turned out for Peterhead's first ever seafood festival.
Organisers Rediscover Peterhead say the appetite for the event was strong that they hope to make it an annual event.
Around 3,500 people flocked to the Blue Toon for the festival and enjoyed perusing 40 stalls laden with fresh seafood and sampling goodies from a pop-up restaurant at Zanres. There was plenty of other local produce on crafts on show, as well as performances from Central School pupiles and live music.
Stephen Bruce, who owns Peterhead Fish Company, said it was the busiest he had seen the town in years.
He said: "It was fantastic to see the town so full of people – a lot were visiting from other places which was great.
"We sold out all our fish within a couple of hours.
"I think it has the potential to grow in the future. Rediscover Peterhead did an amazing job setting this up in a few months and it really got the town buzzing."
Councillor Dianne Beagrie said she was delighted to be part of the steering group for the event.
"It was a great day for the town and the feedback was really good with lots of support from the community.
"This was a pilot event and we plan on a bigger scale festival next year."
Councillor Stephen Calder said the event was "swarming" when he visited the stalls.
He said: "I was very pleased with how busy it was – they think between three and four thousand people turned up.
"The festival could become part of the tourism calendar of Peterhead which attracts visitors to the town since sea food is what the town is known for."
Even those known to be against the Bid were supportive of the event.
Keith Bennett, from Save on Specs, filled his store with balloons and bought several four foot fish balloons to mark the event.
He said: "I'm anti-Bid but I'm not anti-Peterhead.
"We make a big effort for all occasions and I'm not out to spoil anyone's fun – I enjoy this kind of thing."
High praise came from Trawlermen star and owner of Amity Fish Co, Jimmy Buchan.
He said he was "taken aback at the sheer number of people" who had turned out.
"As a pilot, I think the outcome was an appetite for this to be replicated in future years and probably bigger and even better.
"It was a great opportunity for people in the area to experience the produce we sell all over the world and take an interest in the industry on their doorstep."