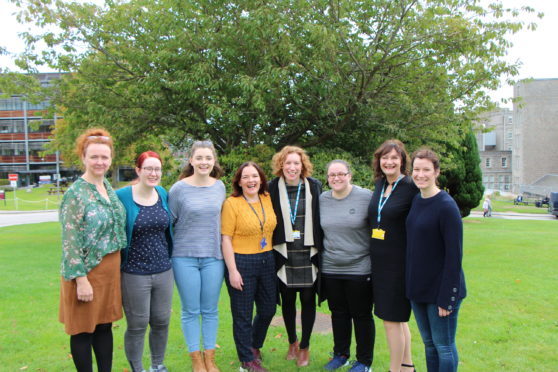 Four nurses who decided to swap life Down Under for the north-east of Scotland have started work – with up to 50 more expected to follow them.
Last year, NHS Grampian took an unprecedented recruitment trip to Australia in a desperate attempt to tackle their staffing crisis.
The board raised eyebrows when it announced it was spending well over £20,000 to scout potential nurses and midwifes.
But the trip was hailed a huge success after scores of people expressed an interest in coming to the north-east.
Now the Press and Journal can reveal five nurses are working at Aberdeen Royal Infirmary, Aberdeen Maternity Hospital and Cornhill Hospital – four from Australia and one from America.
Caroline Hiscox, director of nursing, midwifery and allied health professions, said it was a step in the right direction but admitted there are still challenges.
She said: "It's good news all round – for patients, for staff and for our area. The recruitment drive has already exceeded our expectations and we fully expect the number of nurses working here to climb steadily over the coming months.
"We do need to be realistic – this isn't going to completely solve all of our nursing recruitment challenges. It is, though, a considerable step forward and just one small part of our strategy.
"It is also lengthy process and it hasn't been straightforward. Its new territory for everyone involved as we are the first Scottish health board to try this type of recruitment strategy.
"We've worked really closely with a variety of UK and Australian agencies to identify and overcome hurdles which has taken some time but we've made some fantastic progress with that.
"That should make future recruitment easier in the long run and we are grateful to everyone involved in this cohort for their patience and understanding while we tackled these issues."
A delegation of senior medics, including Mrs Hilcox, went to job fairs in Melbourne, Brisbane and Sydney.
The impetus for the two-week trip was changes in visa conditions which meant uncertainty for many UK emigrant workers who may have considered returning home.
But it soon became apparent that many of the candidates were native Australians interested in emigrating to Scotland.
The new recruits are working in a variety of departments, including intensive care, neonatal and adult acute mental health.
Alexander Burnett, MSP for Aberdeenshire West, said: "It is great to hear that the first group of nurses from Australia are starting in Grampian.
"The health board has worked hard and taken innovative steps to address the chronic staffing issues in the north-east.
"This problem will not be solved overnight, however, and we will need more action from the SNP government to help.
"NHS Grampian is the lowest funded health board per head of population in Scotland this year – it is simply not good enough."
How it comes together
There are a range of hurdles migrant nurses have to overcome before they can register with the NMC.
Each applicant has to prove they have the correct English-language skills to work in hospitals – as the new recruits worked in Australia this part of the process would have been simple to pass.
There is also a basic online self-assessment, based on their qualifications up until that point, which has to be completed before the next stage of the application can start.
There is then a two-stage competency test to ensure each applicant has the clinical knowledge to carry out their jobs.
These vary depending on the area the medic will be working in.
The first part of the exam is a series of multiple choice questions based on practical knowledge.
This can be completed at any test centre in the world.
There is then another section which gives candidates a number of different scenarios which they have to deal with.
Candidates will have six stations which they have to complete in person at a NMC university test centre in the UK.
Applicants have three attempts at this part of the examination, with a 10 day wait after each unsuccessful effort.
If they fail at the third attempt they will have to re-apply and wait a minimum of six months before they can have another go.
Mission response to area's staffing problems
NHS Grampian was forced to resort to the desperate measure as a result of a spiralling recruitment crisis in its hospitals.
Last month, the P&J revealed there were 448 vacancies in the north-east as of the end of March.
The problem has snowballed in the past decade – in 2011 there were 186 nursing and midwifery vacancies in NHS Grampian but by 2016, that figure had shot up to 444.
In recent months the issue came to a head in Elgin, when Dr Gray's maternity service was downgraded from consultant-led to midwifery-led, meaning that some women were forced to travel elsewhere to give birth.
Health bosses were ordered to come up with an action plan to restore the services and have so far appointed two new consultants.
In August, the board was forced to shut two dementia wards at Royal Cornhill due to nursing shortages.
The board has carried out several other projects to attract nurses and midwifes.
In January it announced almost 80 ex-staff had been recruited to its return to practice programme since it was launched three years ago.
The health board revealed a £1million investment in a fast-track training scheme for NHS Grampian staff to become advanced nurse practitioners earlier this year.
The academic programme, run in partnership with the Robert Gordon University, combines studies with work placements to help nurses attain advanced qualifications sooner.
Critics have frequently accused the Scottish Government of failing to properly invest in the region's health service.
However the government has previously claimed it has increased the board's budget by more than £315m.
And in August First Minister Nicola Sturgeon claimed recruitment was the biggest problem facing the region's hospitals during a visit to Cornhill.