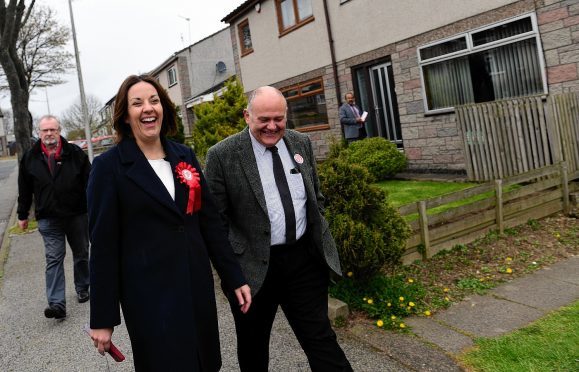 Suspended Aberdeen Labour councillors have given embattled Kezia Dugdale their support – despite being suspended by the former party leader.
A bitter row has been growing after the Labour party decided to stop paying Ms Dugdale's legal fees in her case against the pro-independence blogger Stuart Campbell, famed for the Wings over Scotland site.
Last night one of the councillors said that while the suspension "stuck in the craw", she felt party chiefs should back Ms Dugdale.
The former Scottish Labour leader wrote in a Daily Record column that Mr Campbell had made "homophobic" comments online about Conservative politicians David and Oliver Mundell.
He is now suing her and her legal fees, reportedly more than £100,000, are now being paid for by the paper – with Ms Dugdale saying she was "crushed" by the party decision.
Lothian MSP Ms Dugdale suspended all nine Labour councillors after last year's council elections for forming a power-sharing pact with the Conservatives.
The dispute has been protracted and divisive in the party with no final decision yet made on their fate with the group now under the branding of "Aberdeen Labour".
Sandra Macdonald, whose husband Lewis is a north-east Labour MSP, said: "I think she has been let down and the party should support her.
"Kezia made that decision (to suspend the councillors) all those months ago in the heat of a general election.
"I wasn't happy about it at the time but there has been a lot of water under the bridge since then and we are getting on with our jobs as councillors.
"It does stick in your craw a little not being part of the Labour family after working so hard, but I really think we need to speak up for our members when they are in difficulty."
Lord Provost Barney Crockett added: "I think it is important that the Labour party stand up for what is right and that means giving the legal backing to our members."
North-east Labour MSP Lewis Macdonald said: "She has our full support. This is the same principle that the Labour party should be loyal to their elected members.
"This is true of Aberdeen city councillors or anyone else."
A spokesman for Ms Dugdale said: "Kezia has been inundated with support from Labour members and supporters from across Scotland and is very grateful for their show of solidarity."