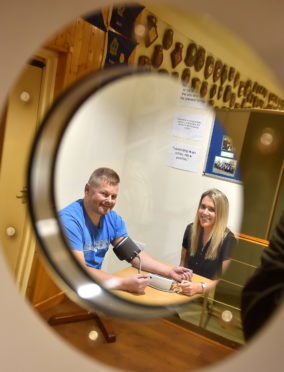 Trawlermen working out of Europe's biggest fishing port started taking up free quayside health checks yesterday.
The Peterhead Sea Cadets building played host to the official launch of the SeaFit programme.
---
>> Keep up to date with the latest news with The P&J newsletter
---
It is being run by the Fishermen's Mission and Seafarers Hospital Society (SHS) and offers blood pressure and diabetes tests, mental health support and dental treatment.
The base has been set up at the town's harbour and will also be at the site until tomorrow.
One of the fishermen who visited the temporary health centre on Seagate was Philip Buchan.
The 44-year-old is the skipper of Peterhead-registered trawler Favonious and felt it was important to get his health checked.
Mr Buchan said: "The service is here and you have to take advantage of something that is on offer.
"If the mission is willing to lay this on, I guess you've got to take advantage of it.
"I've never ever had my cholesterol tested before so it was great opportunity to get it checked. The results were good so I'm happy.
"I am sure we will see a good lot of guys come in.
"Word of mouth will help and a lot of the foreign crews will get involved too."
David Dickens, chief executive of the Fishermen's Mission, said he was pleased with the response to the project on its first day.
He said it is aimed at changing the way both physical and mental health is viewed by fishermen.
Mr Dickens said: "The very nature of commercial fishing means you have to go to sea when everything is right.
"It doesn't matter what you've got in your appointments book or your diary you are going to fish.
"This idea that it is on the quayside and you can go and get your health checked before you go out fishing is hugely empowering.
"Hopefully this encourages fishermen to think about their own and their family's wellbeing.
"We hope it will lead to permanent changes over time."
The SeaFit scheme is continuing to offer free health checks to fishermen today and tomorrow.