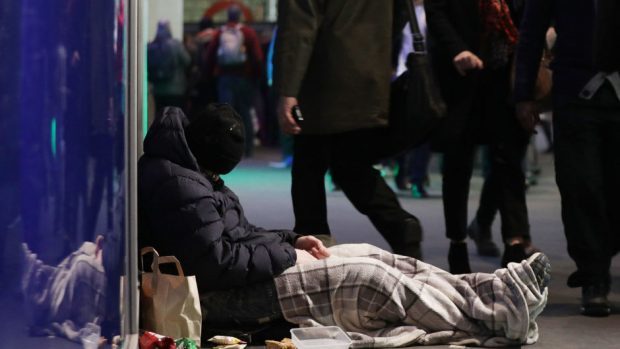 A housing organisation has voiced "serious concerns" about the treatment of homeless people – and those facing homelessness – at the hands of the city council.
Shelter Scotland has released a new report, showing the scale of housing problems experienced by people in the Aberdeen area, with 1,355 people contacting the charity for help last year – an increase of 13% on 2016-17.
The study revealed that one in four of these people was at risk of homelessness within 28 days with 7% of the total – 90 households – already homeless or at risk of homelessness that night.
---
>> Keep up to date with the latest news with The P&J newsletter
---
And more than one in three of the 336 households – 39% – were families with children.
The charity also launched a scathing attack on the level of court action which has been used by Aberdeen council to collect debt and the rise in clients with serious mental health issues.
Mark Thomson, Shelter Scotland's Aberdeen Community Hub Manager, said yesterday: "Demand for our services is very high and our teams are stretched to the limit in providing advice to help people find and keep a home.
"An acute shortage of truly affordable homes, harsh welfare reforms, stagnant wages and the high cost of keeping a roof over their head are the main reasons driving people in Aberdeen to ask for help.
"We are particularly concerned at the level of court action used by the council as a form of debt collection.
"This should only be used as a last resort and much more should be done to intervene and prevent things going that far.
"The increased level of clients with mental health issues is also very concerning. Local services need to truly understand the underlying issues and give more time to supporting and helping people through crisis.
"Another concern is the increased level of homeowners asking our advice after struggling with mortgage payments and being threatened with repossession, following the downturn in the north east's oil and gas industry."
Aberdeen City Council housing spokesperson, councillor Sandra Macdonald, said: "We enjoy a positive working relationship with Shelter in Aberdeen and commission services from them to prevent homelessness in the city, in addition to the services we provide ourselves.
"An early intervention and community empowerment service has been created through the target operating model, with the express intention of ensuring that preventive and early measures are taken to improve the quality of life for residents and communities in Aberdeen.
"This includes housing, housing support and homelessness areas, and management arrangements are in place to ensure that these areas work even closer together to ensure that tenancy sustainment is prioritised, and that where households find themselves in difficulty, council staff are able to offer the right level of assistance."