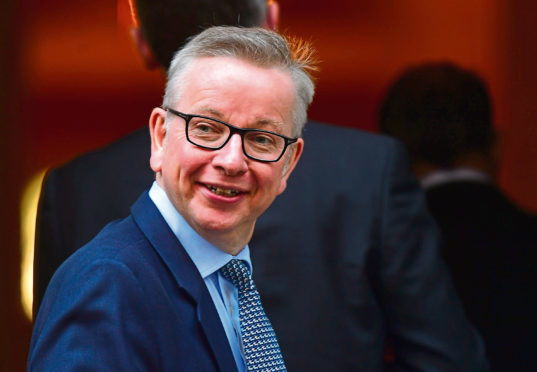 UK Environment Secretary Michael Gove has declared he is "invincibly" confident Britain will be negotiating as an independent coastal state by the end of 2020 – despite talk of extending the Brexit transition period.
Concerns were immediately raised about the impact on fishermen after the prime minister indicated this had emerged as an option as she arrived for the European Council summit in Brussels yesterday.
Liberal Democrat MP Alistair Carmichael questioned whether the timetable for coming out of the Common Fisheries Policy (CFP) remained on track in light of this development.
He said fishermen had first been promised an exit on 29 March 2019 – the date the UK is due to leave the EU – but that had "slipped back" to the end of the transition period on 29 December 2020.
"It now looks set that the time in which our fishing industry remains part of the CFP, but with no input into the decision-making process, could be even longer still," he added.
The Scottish Fishermen's Federation said it would make "no sense whatsoever" to "force" the industry to operate under the CFP beyond 2020.
A spokesman also underlined the "genuine fear"among fishermen that any extension to the UK's time in the "Brexit waiting room would be used by the EU to place conditions on the return of fish stocks that are rightfully ours via long-term agreements that would be difficult to disentangle in years to come".
Northern isles MP Mr Carmichael put the issue to Mr Gove during Defra questions in the Commons yesterday.
He quoted a remark made by the Tory frontbencher in March when he confirmed that "in December 2020 we will be negotiating fishing opportunities as a third country and independent coastal state".
Mr Carmichael asked: "Given the comments from the prime minister and the minister for the Cabinet Office this morning about extending the transitional period, how confident is the secretary of state now that he will be able to meet that undertaking?"
Mr Gove replied: "Invincibly so."
He had previously insisted it was vital to leave the EU "at the earliest possible point so we can make sure we are outside the Common Agricultural Policy, the CFP and that we take back control".
The P&J understands the minister has made similar assurances to colleagues behind the scenes that the UK will not have to remain in the CFP beyond the date already agreed, although a Tory source wondered how this would be possible.
Theresa May said the option of a transition extension had been floated, but stressed it would only be for a "matter of months" and still expected it to conclude at the end of 2020.