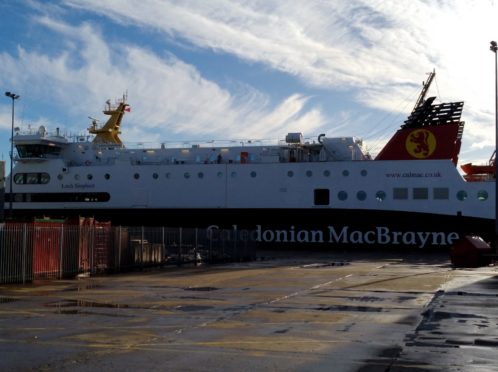 A ferry damaged after hitting the pier in Stornoway has docked in Aberdeen for repairs.
A "heavier than usual" landing resulted in MV Loch Seaforth, operated by Caledonian MacBrayne, being delayed for more than eight hours last weekend.
The £42million ship had hit the pier while docking at Stornoway, causing the forward doors to become stuck open.
It meant the ferry was forced to load and discharge vehicles via her stern ramp.
Nobody was hurt in the bump, and temporary repairs were made.
But before the ferry could set off on its next journey, official permission had to be granted by the insurers – resulting in a further delay.
Due to depart at 3pm on October 14, the vessel finally got underway at 11pm, and confused and frustrated passengers led a storm of protests about the situation on social media.
Now Loch Seaforth has arrived in Aberdeen for repairs, and was spotted tied up at the dock last night.
Repairs will be carried out today as part of an annual check.
In a statement released after the initial damage, a Caledonian MacBrayne spokesman said: "A heavier than usual landing at Stornoway Harbour on Sunday 14th October resulted in superficial damage to the MV Loch Seaforth's bow doors.
"The issue will be rectified at her pre-planned annual overhaul on October 22.
"We apologise for any inconvenience this change to usual operating practices may cause passengers."
The ship can hold up to 700 passengers and 143 cars.
In August the ferry broke down halfway to Stornoway, leaving 343 passengers and crew stranded for hours before power was partially restored.