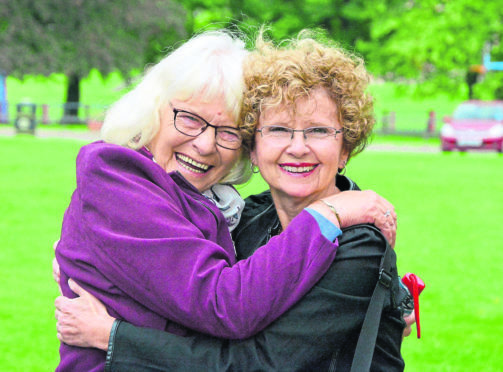 A Peterhead woman has met the Canadian siblings she never knew she had – in the home she was born in 73 years ago.
Anderine Drysdale was given up for adoption after her mother, Hilda Blackett, fell pregnant out of wedlock when she was just 16.
Her mother then moved to Canada and went on to have seven children, including daughter Lynn Lonnkvist and son Stuart Coomer.
And it was not until she was on her deathbed that she told her shocked family that she had another daughter, who was born in Alva, Clackmannanshire in 1945.
Ms Drysdale herself had discovered she was adopted when she was 15, after a friend told her in the school playground.
She then made several attempts to find her real family and obtained her original birth certifcate and paperwork, but drew only blanks.
Unbeknown to her however, her long-lost relatives had also begun searching and eventually travelled to Edinburgh last year to track her down.
They used the internet to search for female babies born in the war years, along with the name Alva, and then went to the registry office in Edinburgh to get the birth certificate.
---
>> Keep up to date with the latest news with The P&J newsletter
---
Ms Lonnkvist then went to the house in Alva where her sister was born and spoke to a neighbour, who helped put her in touch with the local newspaper.
Ms Drysdale, now a grandmother of four, then became aware of the search and the siblings managed to make contact for the first time through Facetime.
Nearly a year later, they met at the very house where Ms Drysdale was born.
She said: "It was rather surreal, not having any idea that these people existed for most of my life.
"I knew nothing about it until 11 months ago, and I didn't find out about the adoption until I was 15.
"About 25 years ago, I tried to see if I could find out anything about myself.
"I found out a little bit more but that was all I knew.
"I could never have expected that there was a whole family out in Canada."
When the siblings met, both Ms Lonnkvist and Mr Coomer spotted their mother's mannerisms in their newfound sibling.
Ms Lonnkvist said: "I thought that Anderine has Mum's looks around the mouth, jawline and nose and she has mum's smile.
"None of the rest of us look as much like Mum."
Mr Coomer added: "Although we Facetimed, and I felt like she had so many of my mother's mannerisms, it's all different when you actually meet.
"Finally when that moment happened and I was looking at her out the car in the parking lot in Alva, I was nervous and getting closer and closer I could hear my mother's laugh.
"As soon I saw her I was brought to tears thinking of how happy my mother would be if she knew this was happening and so happy this meeting finally happened.
"I"m so sad that my mother had to keep this a secret as we've been in Scotland a few times over the last 20 years and we have lost a lot of time."