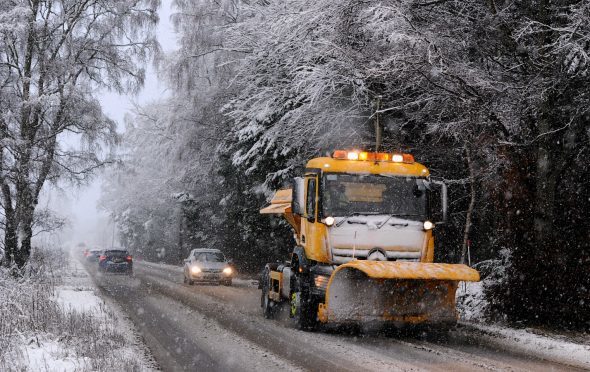 Gritter drivers are to be offered free flu vaccinations in an effort to safeguard their vital role during severe weather.
Aberdeenshire Health and Social Care Partnership's integrated joint board (IJB)  has outlined the proposals to roll out the jab to the local authority's "essential" snow-clearing teams in its winter plan for the next year.
The move has been devised to ensure there are fewer staff illnesses, in order to cope with the potential demand as temperatures plummet.
It comes after the region endured one of the worst winters in recent memory, where Aberdeenshire Council was forced to go £2 million over budget.
Roads bosses came under fire after towns and villages were left impassable for cars and pedestrians after the traditional surface treatment was left redundant by thawing conditions, rainfall and freezing temperatures overnight.
A report states: "In response to previous experiences of severe weather conditions, there is a commitment for greater collaborative working with transport and infrastructure colleagues.
"There are a number of areas being explored including expanding the
current staff flu vaccination scheme to include transport and infrastructure staff associated with snow clearing and gritting."
Earlier this month the council revealed a number of new schemes to help prepare for the upcoming winter.
The authority will now provide one tonne bags at "strategic locations" during more severe storms.
Much of the anger was sparked by "non-primary" roads being left untreated due to the council prioritising main road routes.
And the authority has also developed a hierarchy of side and rural roads to ensure those that are important routes to schools, large businesses and other busy sites are not left out.
The council will train up volunteer staff from other departments to drive vehicles to ensure there is a pool of back-up drivers to ease the strain on the regular gritters if overtime is required.
And several appeals have also been issued for members of the public to come forward and volunteer as snow wardens to help clear their communities.
Wardens will be given proper equipment to help them but will have to have public liability insurance of up to £5 million.
The IJB's plan will be discussed by the partnership's integration joint board on Wednesday.