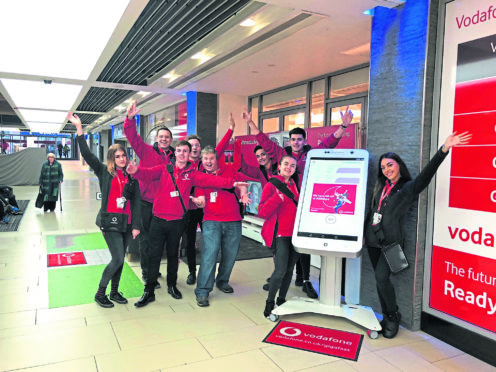 Aberdeen will be at the forefront of what has been described as a new "broadband revolution" next month.
The city council believes the arrival of Gigabit full fibre could have major benefits for businesses and residents and could also boost the quality of health and care services.
Aberdeen City councillor, Sarah Duncan, told the Press and Journal: "We'll be able to help older people stay safe in their own homes, monitor chronic conditions and organise Skype consultations rather than them going in for doctor's appointments."
Vodafone, which is launching a Gigabit full fibre network in parts of the city on Monday November 19, confirmed it had chosen Aberdeen as only the second place in Britain – after Milton Keynes – for the development because it regards it as "the technological heart of Scotland".
By the start of 2019, residents in Cummings Park and Kincorth will have access to ultrafast broadband services of 900Mbs speeds – which is up to 30 times quicker than anything that currently exists across the north east.
The news has been acclaimed by business leaders and councillors, who will be among the guests at a special launch event at Aberdeen's Tivoli Theatre this evening.
Vodafone UK chief executive, Nick Jeffery, said yesterday: "Our Gigabit broadband service will help Aberdeen build on its credentials in innovation and as one of the best places to start a business.
"It will also transform customers' daily lives through having superior internet access.
"We are committed to helping businesses, entrepreneurs and residents embrace the new Gigabit society in Aberdeen, the technological heart of Scotland."
At the moment, only 3% of UK premises have access to such a standard of connection, with many broadband customers in the north and north east of Scotland unhappy about their slow internet connection.
However, residents in Cummings Park and Kincorth will be able to sign up to the new service from November 19 and Vodafone is working to ensure the rest of Aberdeen is offered the same opportunity in the months ahead.
Councillor Duncan, said: "Reliable wireless connection is now seen as an essential utility, like electricity, gas and water and my constituents in Kincorth, who will soon be able to access gigabit full fibre, will be the envy of Aberdeen.
"They will be able to access entertainment, education and work from home without the frustrations of slow download times and connections.
"Gigabit full fibre also opens up exciting possibilities for health and care.
"We'll be able to increase its use to help older people stay safe in their own homes, monitor chronic conditions automatically and have Skype consultations rather than going in for an appointment.
"There is a lot of work being done nationally to maximise the potential of digital in health and care and Aberdeen will be well placed to lead it."
The news has also been greeted positively by Russell Borthwick, chief executive of Aberdeen and Grampian Chamber of Commerce.
---
>> Keep up to date with the latest news with The P&J newsletter
---
He said: "This welcome initiative from Vodafone and CityFibre represents a step-change in Aberdeen's digital connectivity.
"The fact that Aberdeen has been selected as the first city in Scotland to benefit from this roll-out is testament to the ever growing positivity surrounding the region.
"Digital connectivity is a vital enabler of business growth, and this investment will ensure that businesses in the city continue to sit at the leading edge of innovation in Scotland."
SNP councillor Alex Nicoll was equally enthusiastic.
He said: "It's extremely encouraging to have this investment in the local area.
"Access to broadband has become a key factor in the lives of so many people and having speeds such as these is really important.
"Hopefully, this investment will push other providers to up their game and ultimately see service quality improve, and prices drop, for all customers."
People can learn more at Vodafone's "Gigavan" on Schoolhill until November 18.