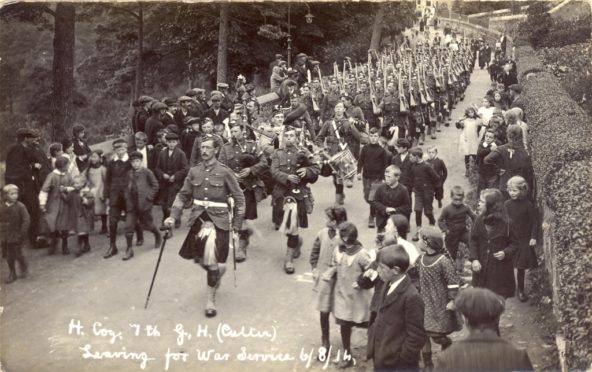 An event telling the stories of soldiers, doctors, nurses and families of World War I will take place in Aberdeen tonight.
Great War Centenary Remembered will take the audience through the outbreak of the ware and some of the major battles that occurred as both sides tried to end the deadlock of trench warfare.
Directed by John Bett, the poignant show will feature acclaimed songwriter and broadcaster Fiona Kennedy as well as performances from students and locals.
It has been organised by Professor Steven Heys and internationally-renowned composer Professor Paul Mealor.
For one Aberdeen University student, the opportunity to take part in the performance is a deeply personal one.
Neil McLennan will read the poem Cha Till Maccruimein, Departure of the 4th Camerons, by Ewart Alan Mackintosh.
Mackintosh was awarded the Military Cross for his actions during the war, after being killed whilst observing the second Battle of Cambrai on November 21, 1917.
And Mr McLennan's great-grandfather, Roderick McLennan, was by his side when he fell.
He said: "My great-grandfather held him high regard and he was known as 'Tosh' affectionately by his troops as their well-being was always uppermost in his mind.
"The only time my great-grandfather, like many of his generation, ever discussed the war was at New Year and although I had heard him recount the story of how his friend fell, I didn't realise it was Mackintosh until I began to investigate Scottish war poets as part of my own research.
"Reading the poem will be an emotional experience for me and I hope that this, and the words spoken by all those taking part in the evening, will help the audience connect to these stories at a time when it is important we remember the sacrifices made by so many."
Great War Centenary Remembered will also explore the famous Christmas truce of 1914, the first use of gas in the trenches in 1915, and the huge casualties of the Somme in 1916 and at Passchendaele in 1917.
The event will run from 6.30pm-8pm at the university's Elphinstone Hall.