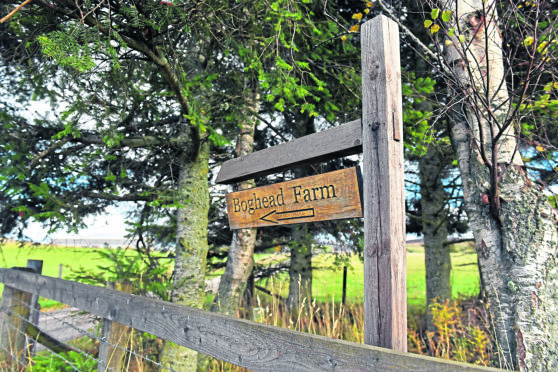 Tests are being carried out on the carcasses of four cows destroyed at the Aberdeenshire farm where a case of BSE was found, MSPs have been told.
The animals were culled as a precaution earlier this week, with the carcasses taken to the south of Scotland for "sampling and disposal".
The results of that analysis are expected to be available in a few days' time.
Aberdeenshire farmer speaks of heartbreak after BSE case confirmed
It comes after Scotland's first confirmed case of BSE in a decade was found at Thomas Jackson's farm at Lumsden, in the Huntly area last month.
A movement ban was immediately put in place at the farm as investigators worked to determine the source, and it emerged some other animals would need to be slaughtered purely as a precautionary basis.
Officials have stressed there is no risk to public health.
During a meeting of the Rural Economy and Connectivity Committee yesterday, North East MSP Peter Chapman sought an update on the investigations into whether the four other cows "are infected or not".
Elinor Mitchell, director for agriculture and rural economy at the Scottish Government, said: "The evaluations of the animals affected were completed on the farm on October 26.
"On Tuesday, the three cohort animals and the one offspring were culled on the farm.
"The carcasses have been transported for sampling and disposal to Dumfries.
"The screening results will be available at the end of this week.
"If any of them prove positive then those carcasses will be transported to the APHA (Animal and Plant Health Agency) Weybridge offices (in Surrey) for further testing."
Mr Chapman expressed satisfaction with the development, saying: "I think that's good. We're absolutely sure, certain, that there are no other potential animals that could be infected.
"It's just the immediate offspring of this particular cow and we know exactly where they are and they have now been taken out."
Rural Economy Secretary Fergus Ewing said it was "hugely disappointing" to have the confirmed case of BSE and said it is right that investigations take time.
He said: "There is no risk to consumer health and the Scottish Government have activated plans to protect food safety and, of course, our valuable farming industry."
He later spoke of the importance of the "very effective surveillance regime" in bringing the case to light.
Farmer Mr Jackson has previously said it was "heartbreaking" to discover one of his cows had BSE and that he has always taken "great pride" in building up the herd by doing the right things.